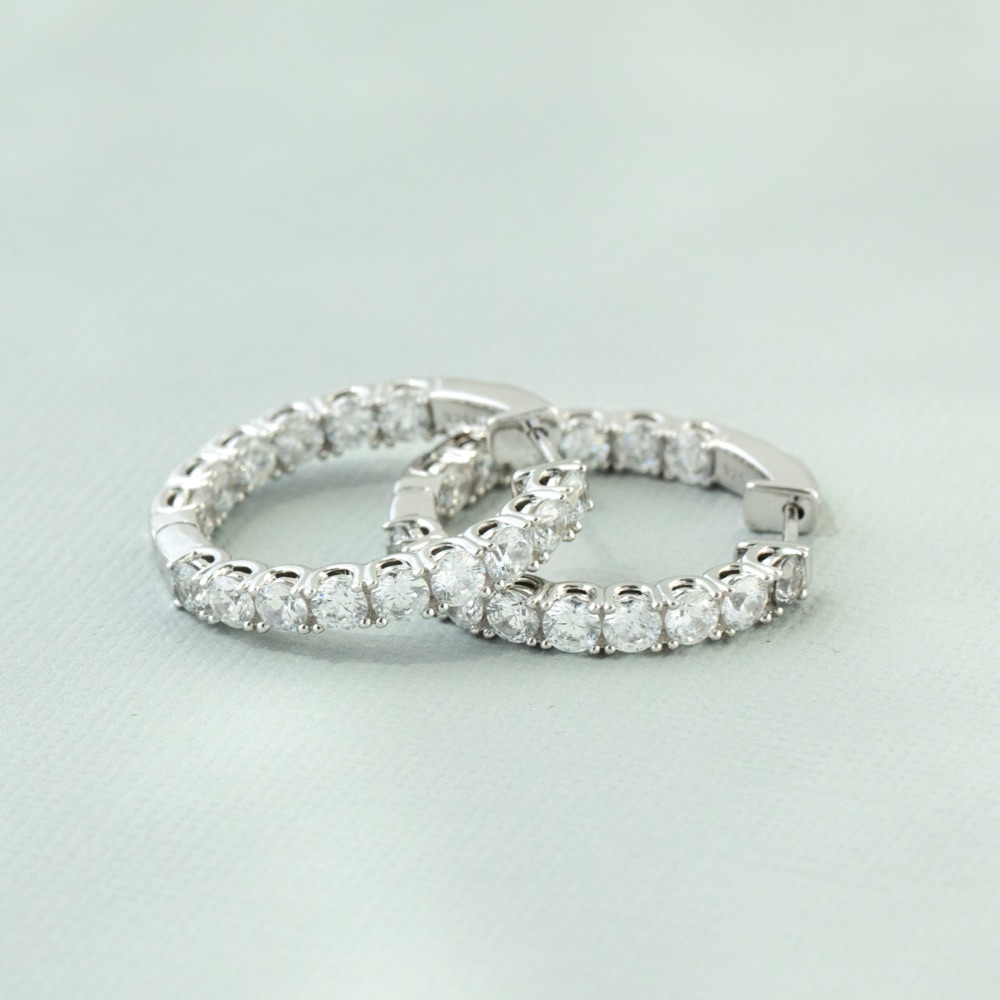 Everything You Need to Know about Hoop Earrings
Style your looks with trendy hoop earrings today and learn a little more about them as you shop. You won't be disappointed!
Published 11/16/2020 by Bethany Milsom
What Are Hoop Earrings?
Did you know that hoop earrings are one of the oldest fashion trends in the world? Seriously - they've not only been around for hundreds of years but have been on trend for just as long. Hoop earrings carry the weight of the world, despite being one of the lightest pieces of jewelry you can wear. Let's explore the world of hoop earrings together and find out what makes them so special!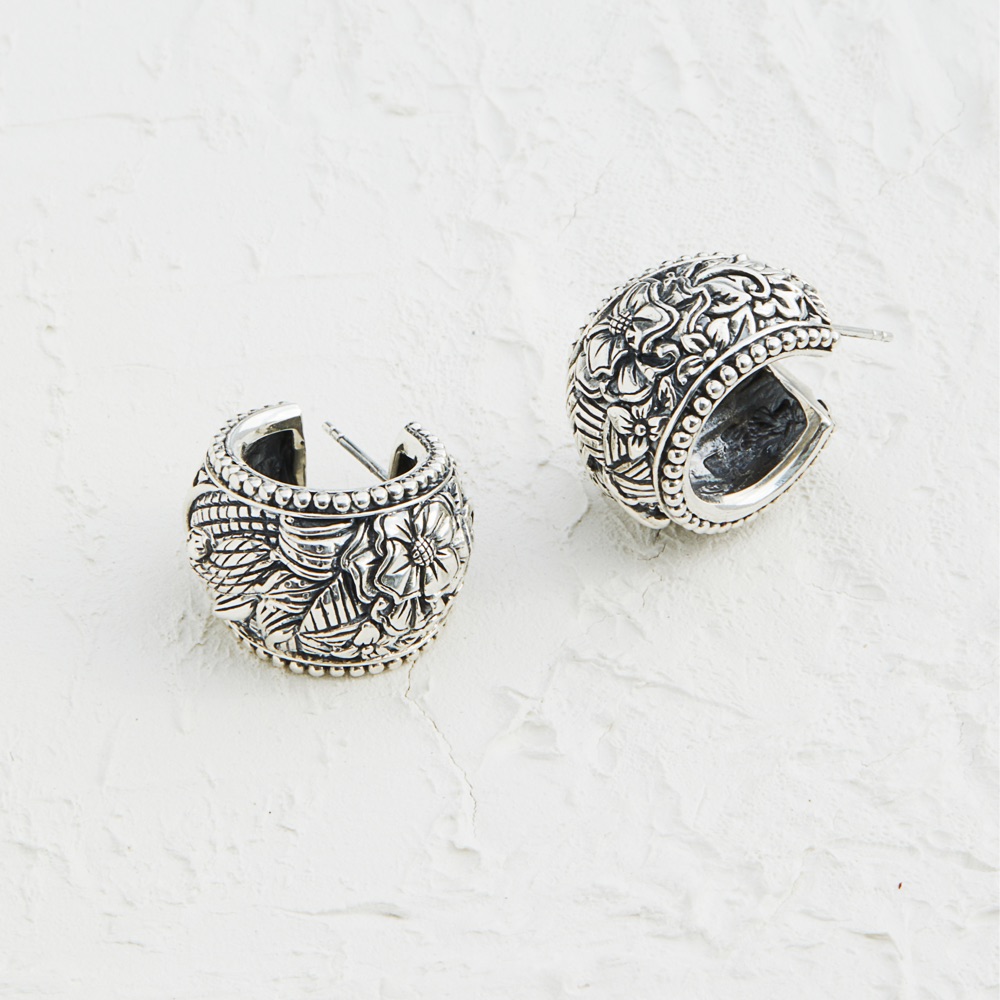 What Do Hoop Earrings Symbolize?
What makes hoop earrings so special is that they are empowering for both women and men. Hoop earrings can be a symbol of strength used to show wholeness, infinity and unity (as represented by the never-ending loop). Many immigrants to the United States and Europe brought hoop earrings from their cultures as an identity symbol - giving hoop earrings significant meaning to many all over the world.
What is the History of Hoop Earrings?
As one of the oldest fashion trends in the world, it shouldn't be a surprise that hoop earrings were popular among the Ancient Greeks, Romans and Egyptians. Back in the day, hoop earrings were used to help identify tribal members and later turned into symbols of religion and wealth. Now hoop earrings are still a popular fashion symbol used to symbolize empowerment - and we can't help but adore them!
Origin of Hoop Earrings
2500 B.C.E. - The first hoop earrings were made in Nubia (modern-day Sudan in Africa). They were created with gold, silver and bronze.
1500 B.C.E. - It became fashionable for both Eqyptian women and men to wear hoop earrings.

The ancient Egyptians believed that hoop earrings enhanced their beauty and made their hoops out of twisted gold wire and beads.
The heavier the hoop - the higher the power and wealth!

1000 B.C.E. - Hoop earrings began spreading to other cultures across the world.
1600 to 1900
1600s - Elaborate hairstyles came into style, and ear jewelry was on the decline.
1700s - Small pearl earrings became the most popular trend in Europe, and men began cutting back wearing earrings. This was when the single earring trend was born!
1800s - Light hoop earrings became the most popular earring style again over heavier pendant jewelry. This era was heavily influenced by Roman culture, which led to the popularity of gold hoop earrings.
1900 and Beyond
1910s - American earring popularity was reborn. The hairstyles became simpler, lower cut outfits became popular and people loved dressing up their ears.
1920s - King Tut's tomb was discovered in 1922, which rebirthed the popularity of gold hoop earrings. People began wanting more exotic fashions as a result.
1930s - Activist Josephine Baker loved wearing hoop earrings, which brought them even more into style. Not to mention, low-cut blouses and exposed shoulders became a trend.
1960s - Hoop earrings were the signature look of the decade.
1970s - Chrome and silver hoop earrings became extremely popular thanks to Cher and Diana Ross. This is the first time anything has competed against the traditional gold hoops.
1980s - Hoop earrings were set aside for designs that were more jagged in shape. But don't worry - it was only temporary!
1990 to Present - Hoop earrings are still extremely popular among cultures worldwide, and we don't see them going away anytime soon. Thanks to the hip hop culture of the 90s and Latino influence, hoops were put back on the map.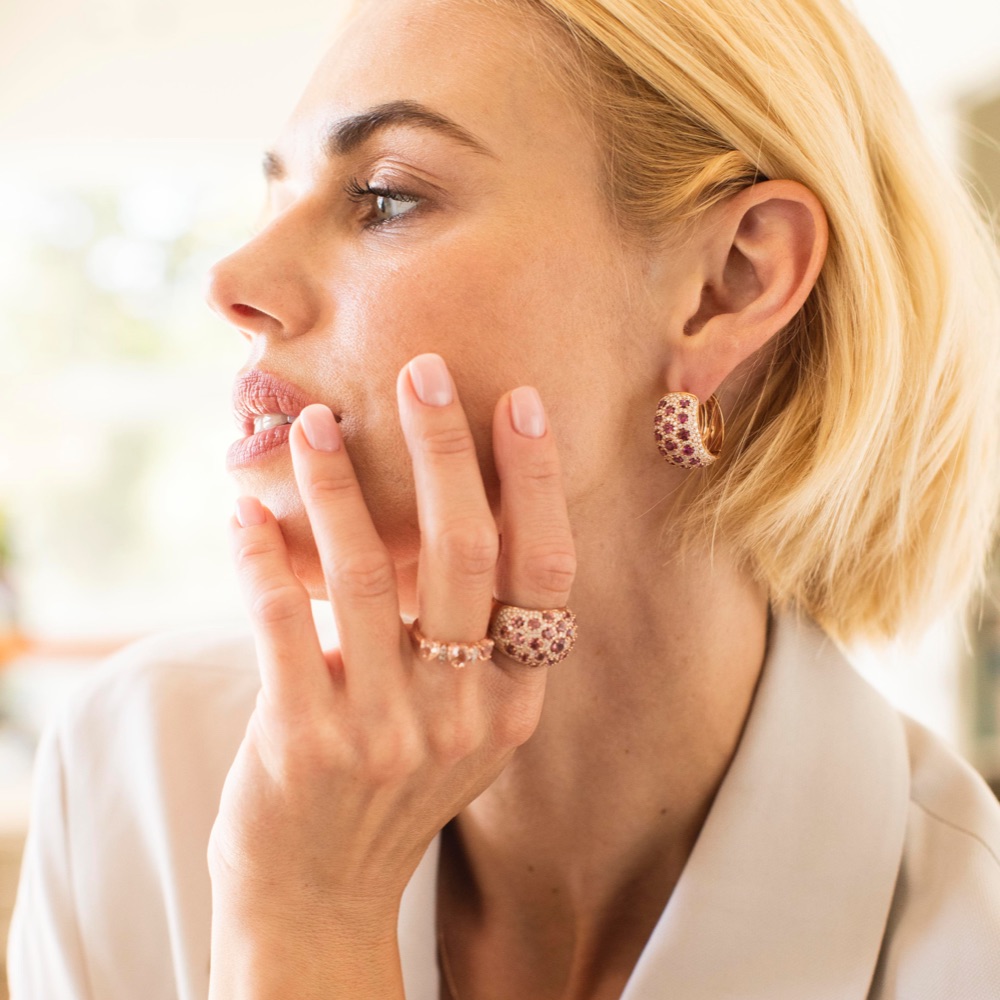 Four Types of Hoop Earrings You Need
Hoop earrings are empowering and trendy. There's no question. So, if you're ready to introduce a hoop style to your collection, but not sure where to begin, check out our list of the four main hoop types you need to know to make the best decision for you.
Hinged Hoop Earrings
Hinged hoop earrings feature a hinge at the bottom of the earring that clasps down. Note that the bigger the hoop, the weaker the hinge. This style of hoop earrings is extremely popular and is relativity secure in the ear.
This style is often thicker than your ear piercing with a thin wire in the middle designed to pass through the ear. You wouldn't be surprised to see a lot of fashion jewelry designed in the hinged hoop style - most notably because it can support a lot of weight.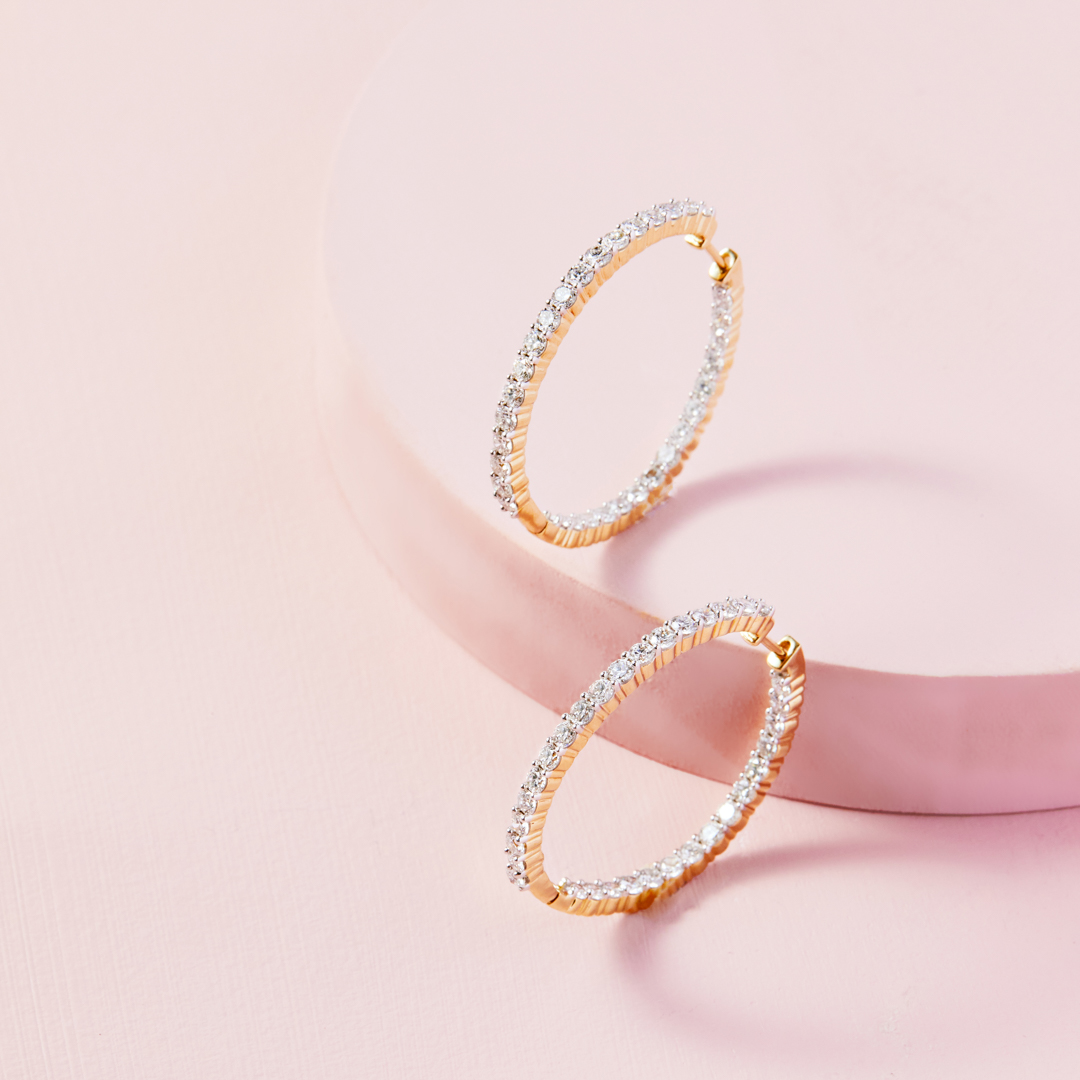 Huggies Earrings
Huggies are known for hugging your ear. They often have a smaller fit compared to the popular hinged hoop style. This style is perfect for kids because it lacks a hinge at the back - meaning it won't poke you or pull your hair. And if they happen to unclip, they are designed to stay in the ear so you won't lose them!
If you're not sure if you can pull off hoops (which we believe everyone can), then huggies are a great intro to the hoop earring world due to their delicate size. They're perfect for adding some tiny charm to your look.
Wire-Loop Earrings
When you picture hoop earrings, you probably picture the traditional hinged hoop style. But the oldest hoop style is actually wire-loop earrings. In fact, wire-loop earrings are one of the simplest and oldest styles of jewelry in the world.
For this design, a single wire forms the circular earring. The ends of the wire feature a tiny loop on one end and a little hook on the other - which is how you secure the earring. It's such a simple design that you can make this style at home using a round wire!
Captive Bead Ring
The captive bead ring style comes nearly all the way around in a ring shape with a tiny gap between ends. A bead is then placed on either side of the ring, which helps hold the ring in place.
This hoop style is mostly used for body jewelry or small upper-cartilage piercings. Often it is left in long-term, so you don't change out this style very often.
How to Style Hoop Earrings
The best thing about hoop earrings? They can be worn with anything, anytime, anywhere. Seriously! Whether you are going for that chill boho look with small gold hoops or looking to make a statement with bold silver hoops, hoop earrings will always leave you feeling inspired.
Try something new with hoop earrings, and stop jumping through hoops to find great looks. If you're getting ready for that much-needed GNO (girl's night out), be sure to pair your playful gold hoop earrings with a stunning bracelet or chain to tie your look together. Just find the hoop earrings that speak to you and let them pull together your outfits - it's that simple. Wanting something that feels a little more work-appropriate? Pair your work outfits with a pair of silver diamond hoops for a sophisticated look.
If you struggle with studs, give hoop earrings a try instead. Because hoop earrings don't have the backing that studs do, it makes them easier to take in and out. They also hold in better for people with thick earlobes. The hoop earrings design also prevents the earring from tangling in hair or stabbing your head, so they are perfect for children. A tip for understanding hoop earring sizing: the hoop earring measurements are the inner diameter of the hoop - not the outer.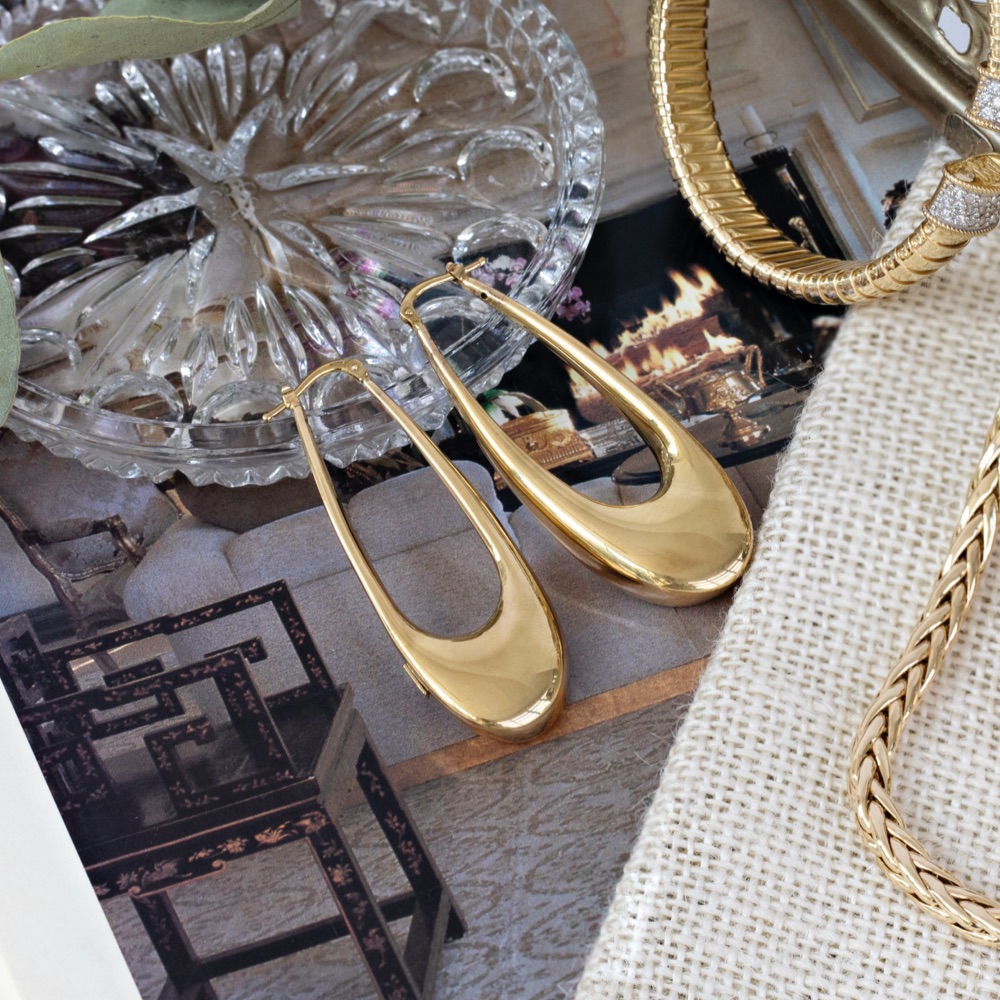 Making Your Own Hoop Earrings
Making your own hoop earrings is a great way to get into jewelry making because it's so simple to make stunning looks. You also don't need a lot of materials or equipment to get started. So if you're thinking about starting your own jewelry shop, want to expand your personal collection, or the holidays are coming up, so you are thinking about making your gifts homemade, consider starting your DIY jewelry journey with hoop earrings.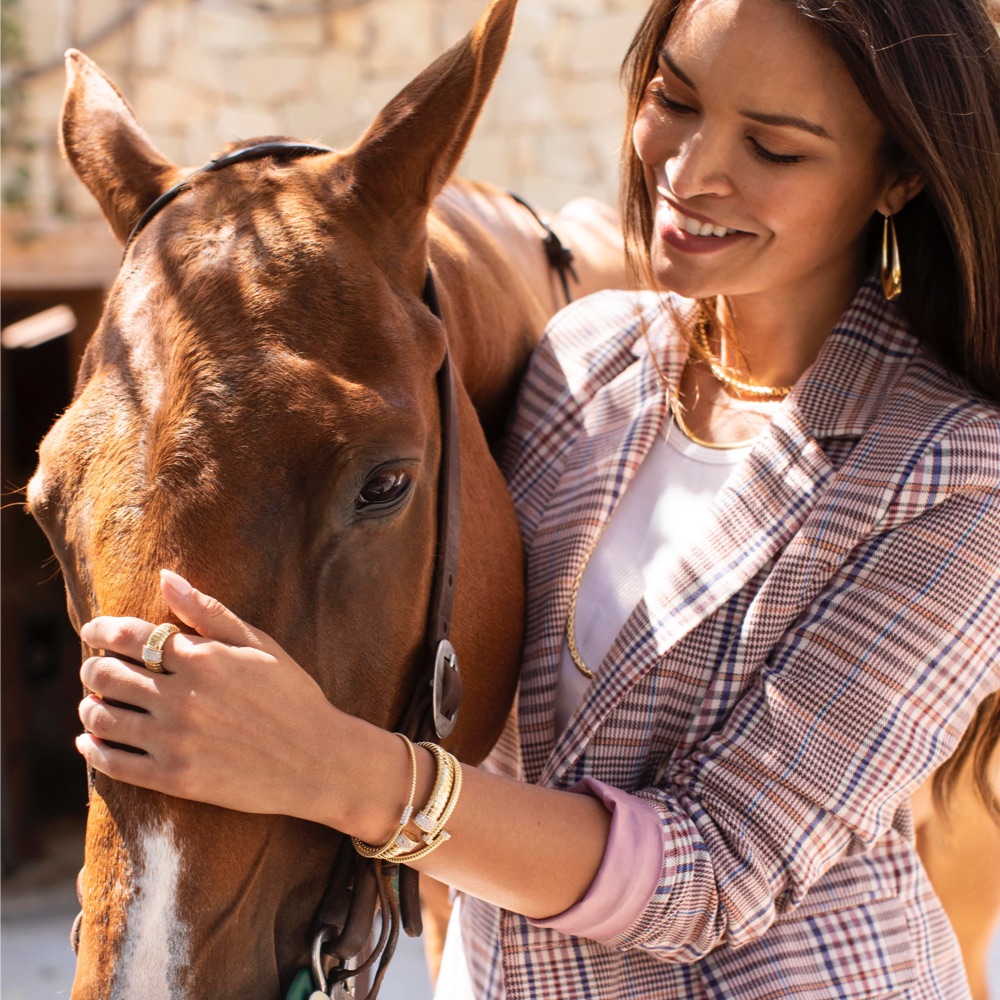 Your Bag