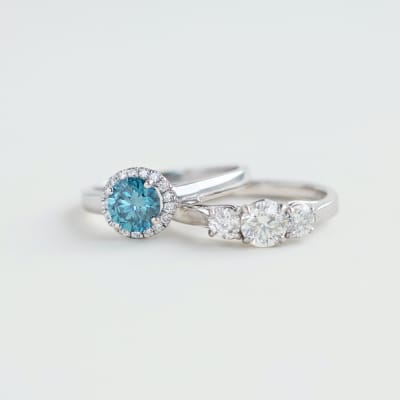 Everything You Need to Know about Promise Rings
What is a promise ring? What does it mean? Here's everything you need to know about promise rings before you go buy one!
Published 11/17/2020 by Bethany Milsom
What is a promise ring?
Promise rings are a perfect way to show your eternal love for one another - without the commitment of getting married! Promise rings often precede an engagement, so they are a sign of a serious relationship and commitment to one another. If you're a couple that doesn't feel like you've been together long enough for an engagement or feel you are too young, promise rings are a great way to show your promise you want to commit to each other in the future.
The bottom line? There are no rules when it comes to promise rings. In fact, you don't even have to be in a romantic relationship to give a promise ring. The only thing that promise rings represent is a promise you made with someone else.
What is the meaning of a promise ring?
Promise rings don't have a defined meaning because it differs from couple to couple. Our word of advice? You and your partner should decide what it means to you. Let's break down why you might want to give a promise ring. Your relationship is developing, and you want to show how important you are to one another. That's great! However, though you love each other and want to show commitment, you feel it's just too early to get engaged. And that's understandable. Or maybe you're separated by distance, but you want to show you are fully committed to each other. You just need to discuss what the ring means to you - there are no rules. In fact, promise rings can be used for friendship, monogamy, chastity, pre-engagement or even a promise to yourself. Make it yours, make it unique.
What is the history of promise rings?
Technically, the term 'promise ring' didn't appear until the 1970s when it was first used in a dictionary of jewelry terms despite promise rings having a long history - crazy, right? Promise rings actually date back to ancient times, but we didn't begin seeing the modern take on promise rings until the 16th and 17th centuries.
During Ancient Rome in the 2nd century BC, Roman brides would wear promise rings or engagement bands. This tradition was rooted in the ideas to demonstrate loyalty and fidelity. Many people in ancient times would use 'promise rings' to seal a promise with one another. Around 16th century England, posy rings were born and became very popular. These were often engraved with romantic poems and given to one another as a promise of love. We started to see people using promise rings as exchanges of tokens of love and friendship. During this period, another popular promise ring style was the scribbling ring - which lovers used to etch their romantic vows into glass window panes.
Now, promise rings are just hitting the peak of popularity over the last decade. Many attribute this to celebrities like the Jonas Brothers and celebrity couples like Miley Cyrus and Liam Hemsworth. Cute!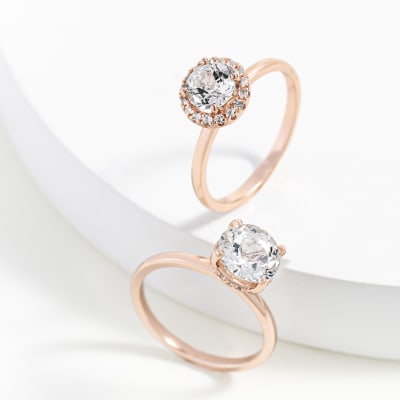 What finger do you wear a promise on?
We're sure you are tired of hearing it, but again, promise rings have no rules! You can wear your promise ring on any finger. Sometimes, people even wear their promise rings on chains around their necks.
The most convenient way to wear your promise ring is on the ring finger. Some believe that you should wear your promise ring on your left hand because of the superstition that there is a vein that runs directly from your ring finger to the heart. Sorry to disappoint - but that's not actually true.
Others prefer wearing their promise ring on the right hand so that it doesn't get confused with an engagement ring or wedding band. But because there are no rules, just wear your ring how ever it makes you feel comfortable. Your ring's meaning is unique to your relationship, so do what makes you happy!
It's pretty common for couples to wait a year after they started dating before giving a promise ring - but this isn't a set rule. You can give a promise ring before or after the one year mark. It's all up to you and your partner!
There is one rule though to giving a promise ring - you should only give promise rings when you are truly ready for some form of commitment to one another. Promise rings are intended to denote your relationship if you aren't ready for marriage but want to show your commitment.
What should a promise ring look like?
How the ring should look and what materials are used is entirely up to you! Most people start by selecting what metal type and color they want their ring to be and go from there. Promise rings can be made of anything from sterling silver to gold. Many feature diamonds or valuable gemstones - but they don't have to!
Diamond Promise Rings:
There's no denying that diamonds are a classic choice for any ring. With diamonds being undeniably timeless and beautiful, they are a safe choice for your promise ring. Often, diamond promise rings are smaller than engagement ring diamonds and are usually featured in clusters.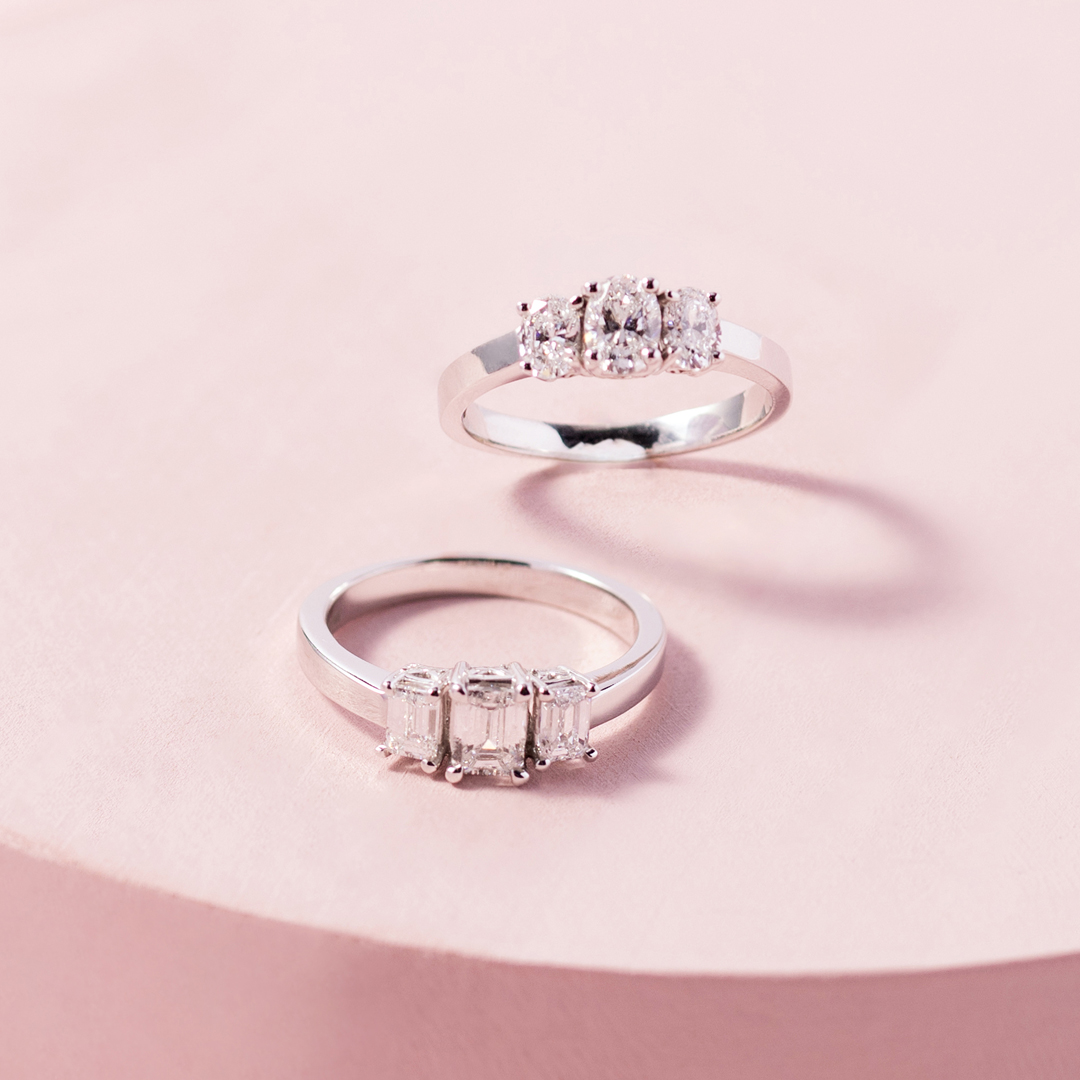 Gemstone Promise Rings:
Gemstone promise rings are perfect for adding a bit of flair and color to your significant other's hand! Often, gemstone promise rings have more personality to them compared to other promise ring options. Stuck on what gemstone to get? Consider your partner's birthstone or favorite color. Ruby rings and pink sapphire rings are also popular choices for promise rings.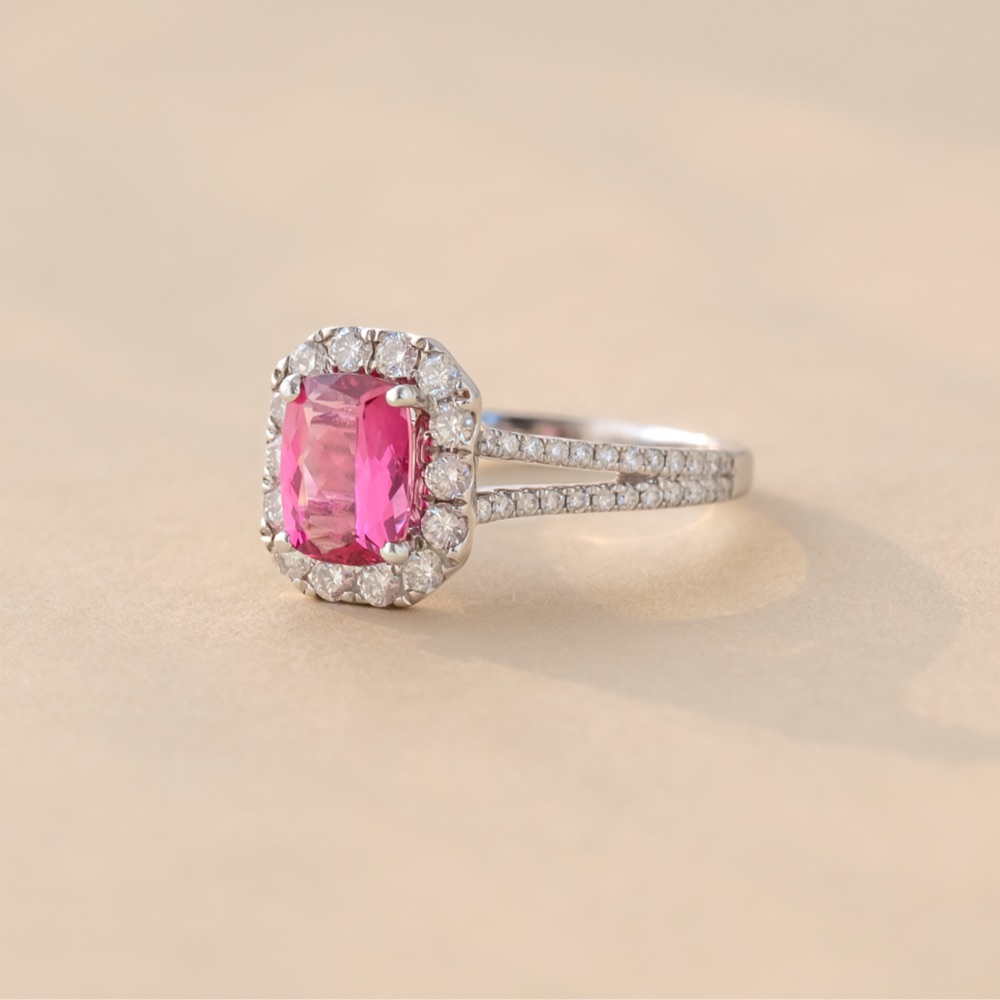 Just Metal Promise Rings:
If you prefer something a little plain and simple that can go with anything, consider a promise ring that doesn't feature any stones. Instead, feature an engraved message, design or unique design that means something to you and your partner. This is an excellent way to make your ring feel personalized but still simple and elegant.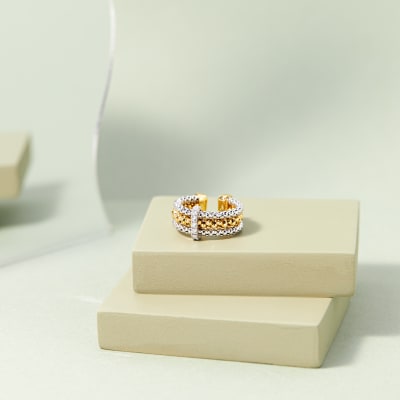 How do you give a promise ring?
If you're anxious about planning something big and elaborate for your promise ring - stop. Promise rings are about the meaning, not the moment. So, there is no need to come up with an elaborate promise ring 'proposal.'
However, don't take this moment lightly because it is a big step in your relationship. Our best advice? Please make sure that you are upfront about the ring's meaning with your partner and the terms of the promise that it symbolizes. Trust us. It will be really awkward if your partner thinks it's an engagement ring, so you have to explain that it's not.
To avoid this confusion, write a simple note describing what the ring means from your point of view to your partner. Make sure they read your note before opening the box!
Need some ideas of when to give your promise ring? Many people opt to give their promise rings on birthdays, anniversaries, Valentine's Day or holidays. To make it feel more special, pick a random day to give your promise ring, so it doesn't feel as cliche.
To make it more fun, consider planning a scavenger hunt that leads to a secret location. Or plan a romantic dinner for two, so you can have your partner's full attention. Some people even decide to go to the jewelry store (or website) together to pick out rings that symbolize their commitment to one another. Whoever, whenever, wherever - take in the moment together and embrace the next step in your relationship. It's a special time!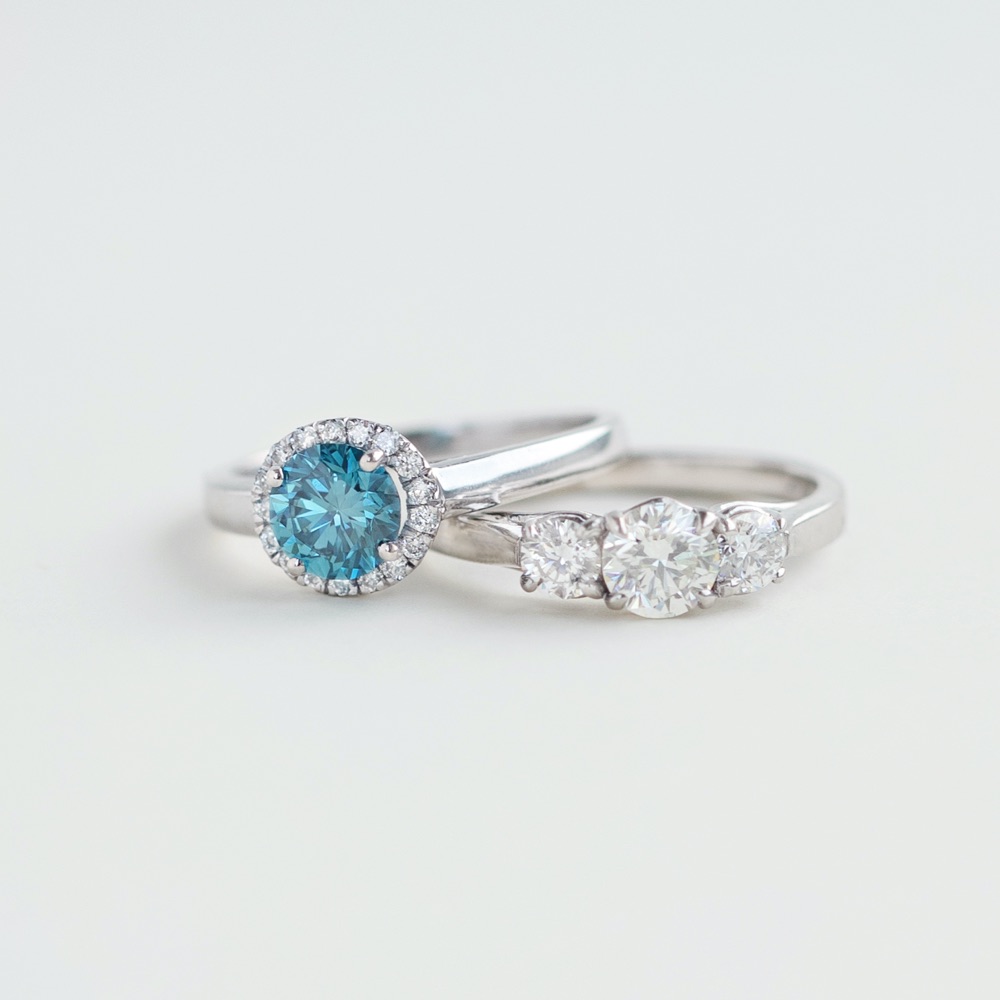 Promise ring vs. purity ring
When you think of a ring representing abstinence until marriage, you are thinking of a purity ring. Not a promise ring. Purity rings rarely feature gemstones or come in colored precious metals. Promise rings are given as a tangible symbol of commitment to one another - usually for a romantic relationship.
Promise rings vs. engagement ring
Usually, promise rings are given before engagement rings. But again, there are no rules. Promise rings are the first major step in lasting commitment to one another without planning a wedding right away. Promise rings are much more symbolic and don't have a singular meaning.
Engagement rings are for proposing marriage and used to symbolize that you are going to get married. Typically, after giving an engagement ring, you and your partner immediately start planning your wedding.
Your Bag