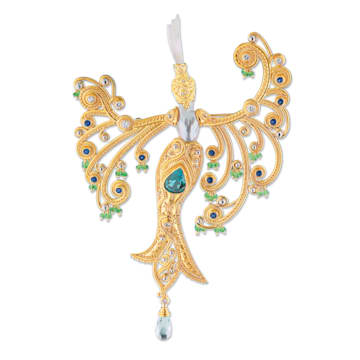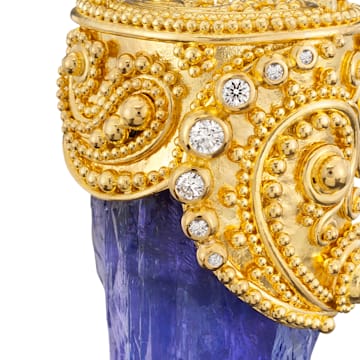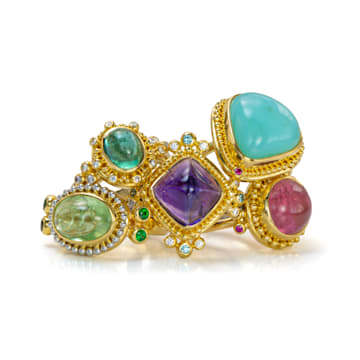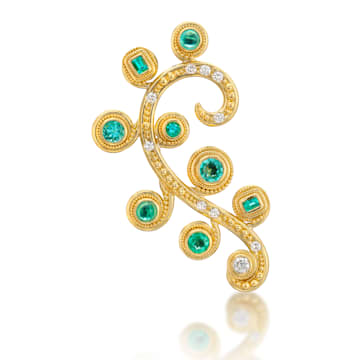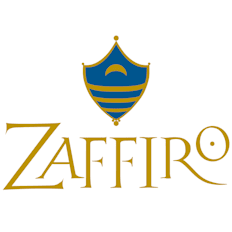 Zaffiro
Exquisite Handcrafted Jewelry featuring Granulation. Since 1996. Walla Walla, Washington, United States
Our Store

About the Store

Store Policies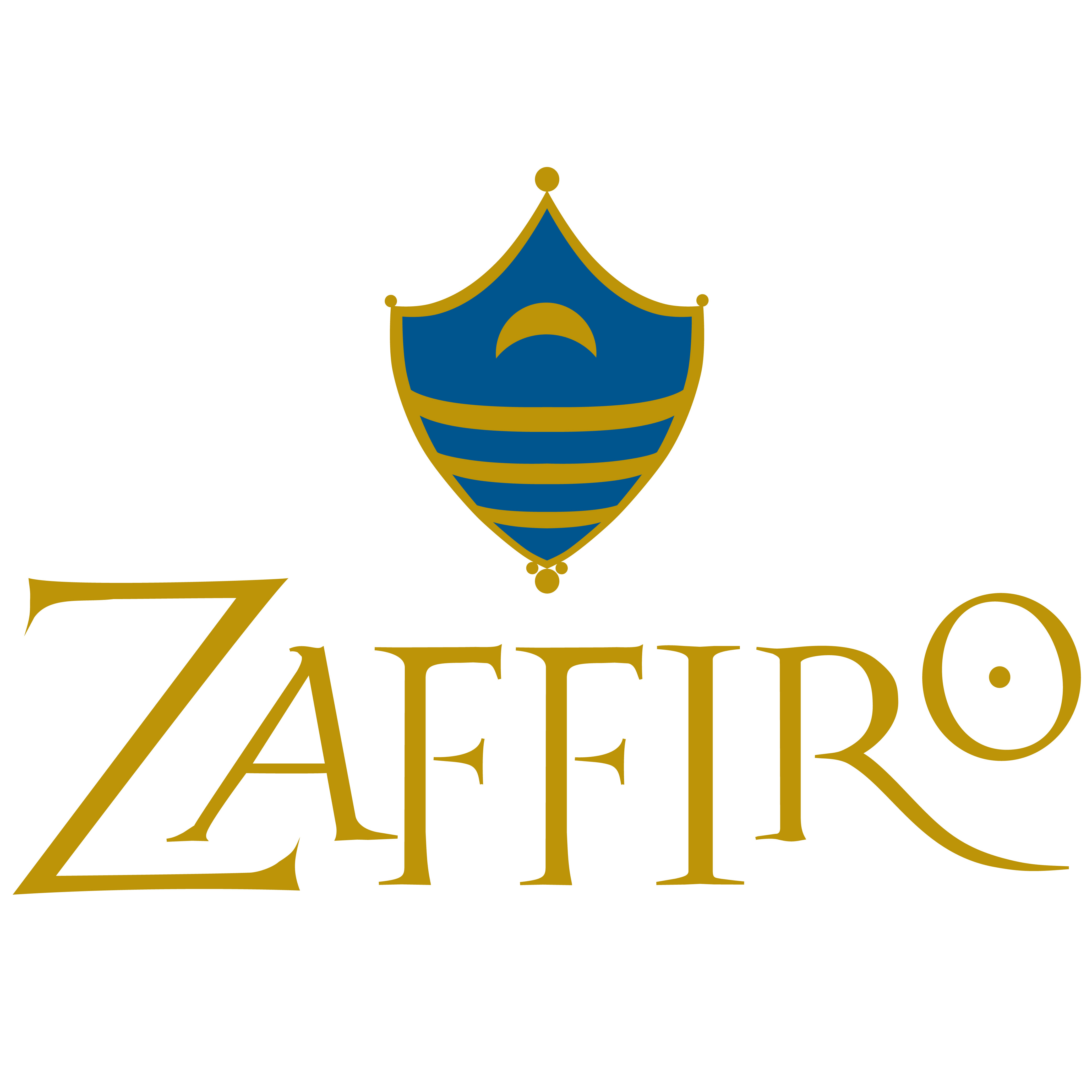 Seller: Elizabeth & Jack Gualtieri
About Zaffiro
In the Zaffiro studio located in Walla Walla, Washington, Jack and Elizabeth Gualtieri carry forward the legacy of ancient Etruscan goldsmiths: the art of granulation. Tiny individual spheres of gold create lush textures on the surface of each hand crafted 22kt gold jewel made by the award-winning husband and wife team. Though they use a virtually identical process to that employed several millennia ago, these artists don't recreate historical works. Their designs are a distillation of influences from a modern world that bring an individual spirit to this remarkable ancient technique. In addition to mastering the notoriously difficult granulation, Jack and Elizabeth have a keen eye for richly colored gemstones. They incorporate both familiar and the unusual varieties into their designs which reflect a deep affinity for the beauty found in nature.
What is the history of granulation?
Earliest examples of granulation were discovered in Minoan tombs on the island of Crete, dating from around 2000 B.C.E. but the finest examples were produced by Etruscan goldsmiths in what is now central Italy between the 8th and 2nd centuries, B.C.E., some of which can be seen at the Metropolitan Museum of Art in New York. Even with modern tools and knowledge, few goldsmiths today have sufficient skill to compete with the Etruscan's mastery of this process. Etruscan goldsmiths created jewelry that showed fantastically detailed images like seed pods or lion's heads made entirely out of tiny spheres of almost pure gold arranged on thin sheets of beaten gold. This goldsmithing technique, called granulation, would fall from fashion around 6oo C.E. and the skills and knowledge needed to create this exquisite jewelry would vanish for more than a thousand years. During the first half of the 1800's several excavations were carried out in the vicinity of Rome which revealed resplendent ancient Etruscan granulated jewelry. The famous Victorian goldsmith, Alessandro Castellani, studied these artifacts in great detail to unravel the method of fabrication. It was, however, not until after his death that the puzzle of the granulation bond was finally solved in the early part of the 20th century. Although the secret remained undisclosed to Castellani and his contemporaries, they started an archaeological revival of Etruscan jewelry around the 1850's deploying their own goldsmithing techniques to reproduce some of the finest ancient jewelry ever excavated. Many of their objects are now in important jewelry collections around the globe, together with the original counterparts. Jack and Elizabeth are proud of their particular contribution to the ongoing story of granulation. Given the amount of hand work required, Zaffiro produces no more than 100 to 120 pieces on average in a year. Each piece is destined to find a collector who will appreciate the effort and artistry involved and hopefully the history too.
Tell me about the granulation technique.
Upon first glance, it's the color of 22kt gold and the texture of the jewelry which attracts the eye. What may not be apparent is that every piece of jewelry is entirely built by hand by either by Jack or Elizabeth. Starting with pure 24kt gold that is 100% regionally recycled, they fabricate their own 22kt gold alloy of sheet and wire. From the wire, they make 12 different sizes of granules ranging from .15mm to 4.0mm to incorporate into their designs. The initial form of a piece is fabricated from the sheet and wire and incorporates fusing, forging and repoussé techniques. Next the granules are applied to the surface of the piece and it is heated with a torch to a temperature high enough to form a permanent bond between the piece and the spheres. The granulation process itself requires great precision and control. If the spheres are over-fired they'll melt onto the surface; if under-fired, they won't adhere properly and can fall off. While a majority of their work is in 22kt yellow gold, they also granulate in custom 22kt white and rose gold alloys as well as platinum.
Tell me about your journey getting to where you are today.
It started with a book. Specifically, a very large book on granulation in the ancient world at the National Archaeological Museum of Florence, Italy. Elizabeth was on a study abroad program there during college and fell in love with granulation in high karat gold. She wanted to buy the book but it was too expensive on her student budget. Several years later when Elizabeth and Jack backpacked through Italy on their honeymoon, they bought that book. The images contained within became the initial inspiration for Zaffiro (which means sapphire in Italian) which they founded in 1996 in Portland, Oregon. By 2019 they had outgrown their studio and knew it was time for a change. Again, it was travel that provided the inspiration for the next phase in Jack and Elizabeth's lives. At the end of an anniversary trip to Washington state's premier wine region in Walla Walla, they were looking for a house to buy. To be able to custom design a studio and office space where every tool has a home (and there are lots!) was just what was needed. Now happily settled into their new town and new house, Jack and Elizabeth, the very large book on granulation, and two cats, Dusty and Sullivan, continue their journey.
What are the main inspirations behind your jewelry?
Much of our work starts by seeing the personality of the individual gemstones we want to feature in a piece- they let us know what they want to be. Our designs are informed by patterns found in the natural world- a harmony you can see in the overall form of a piece and its relationship to the individual arrangement of the granulation spheres. Being curious makers is also a constant source of inspiration. Designing one of a kind pieces allows us to have wide ranging creativity and to explore divergent paths in our craft. We're known for and have won awards for the development of different alloys of gold and platinum specifically for the granulation technique. Currently, we're expanding our skills in chasing and repoussé. The recent purchase of a laser welder is already transforming the way we fabricate and expanding the way we design.
Media Gallery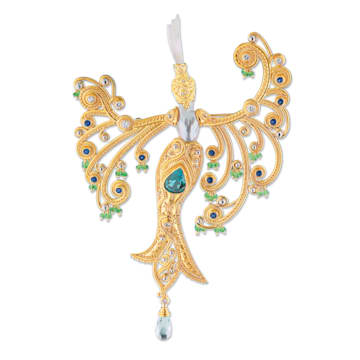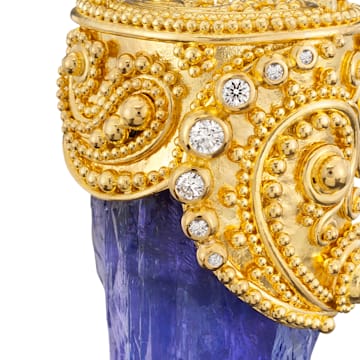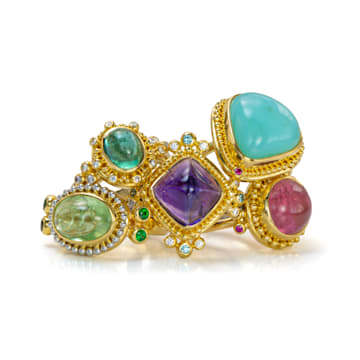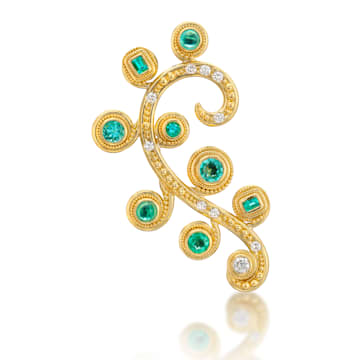 FAQ
Shipping Policy
Shipping Policy: Items will be shipped to you no later than 72 hours of your order, although many packages ship within 24 hours. When your order has shipped, you will receive an email with a tracking number. Rest assured, shipping insurance is automatically added to all packages. If you have any questions or concerns about the status of your order, please contact Jedora Customer Care at 1-833-453-3672 orcustomerservice@jedora.com
Privacy Policy
Privacy Policy: We comply at all times with Jedora's Privacy Policy. We will not use your information for any purpose other than fulfilling orders and addressing customer service issues. We also will not disclose your personal information to any third party for any reason. If you have any questions for our Store, you may submit them through the Jedora platform, and we will provide a response as soon as possible.
Returns and Exchanges
Return Policy: We hope you love your jewelry! But if you are not satisfied with your purchase, you may return your item(s) within the return period listed below for a full refund to your original form of payment. We may refuse to accept a return that is received after the return period. To be eligible for return, items must be in their original, unworn condition, with all tags still attached. Returns will not be processed for any items that have been altered in any way after shipment. All returned items may be checked and quality inspected to ensure the items have not been tampered with or replaced. Please allow 7-10 business days from our receipt of your return to process your exchange or refund. Please see the Jedora Terms and Conditions for additional information regarding submitting a return.
Your Bag