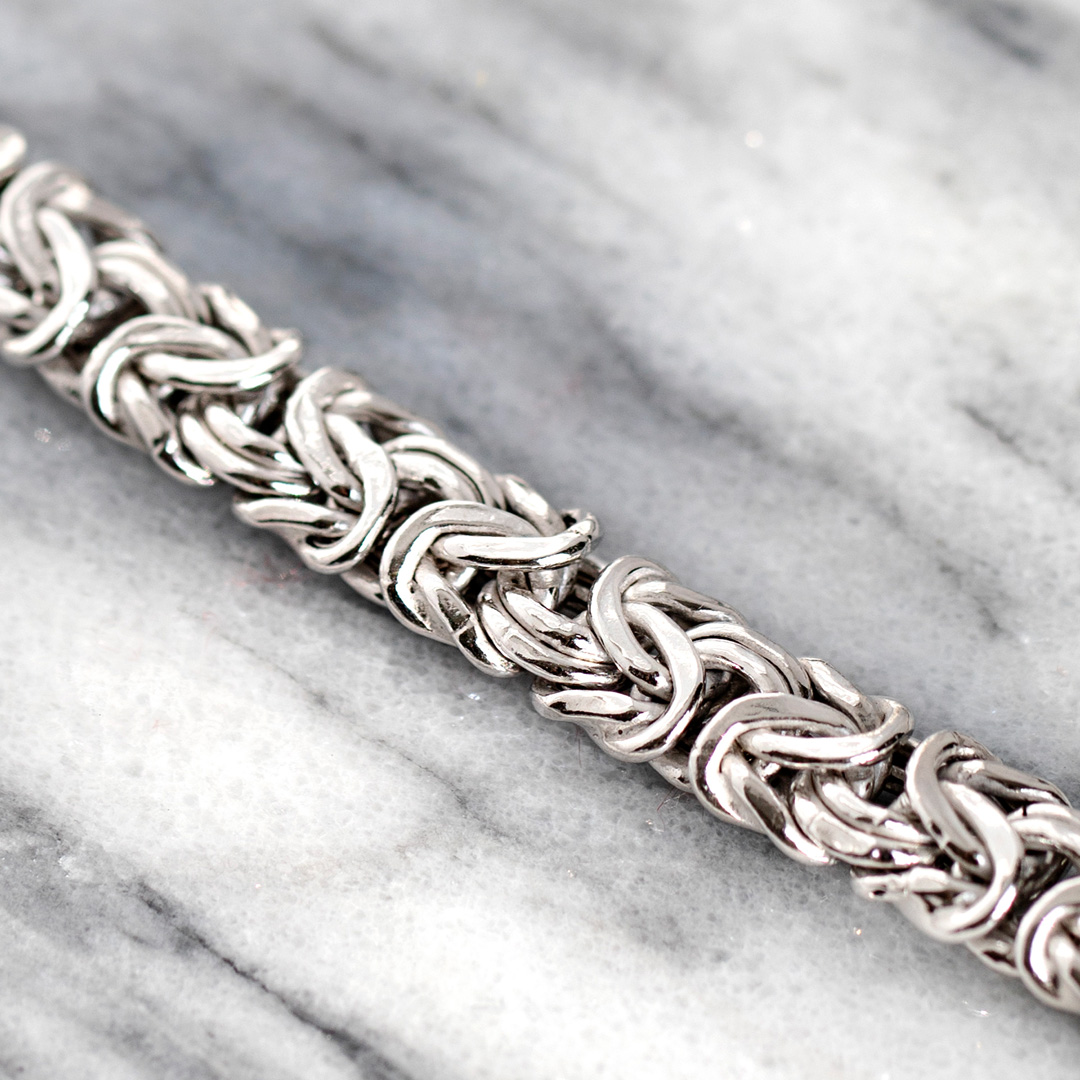 Answer Five Fast Questions and Find the Perfect Chain Jewelry Style For You
How can a few questions about your personality help you choose the chain necklace that's right for you? Keep reading for find out more. 
Published 09/28/2020 by Kyra Hensley
The way we see it? Chains are as dazzlingly diverse as the people who wear them. 
Some girls want their chain jewelry to be dramatic and fabulous. Others want chain jewelry that balances between their work life and their social life. Some accessorize their chains with pendants, while others take a simple and subtle approach to looking their best.
And of course, we can't forget about you. What do you need your chains to do for you? Are you looking for simple and elegant, or something that packs a punch and makes a statement?
We know you're no cookie cutter girl. So why not read through the following quiz and learn what chain types are perfect for your personality and your lifestyle?
1. Which one of these phrases describes your outlook on life? 
A. I like to keep things simple and sweet. 
If you chose A, we've got just the perfect two chains for you. Pinky promise.
Cable chains have a simplistic design with a consistent pattern throughout, with one link perpendicular to the next. Size makes some difference with how you style. With bigger bolder links, you'll make a bit more of a statement than you would with smaller, thinner chains.
Herringbone chains have flat v-shaped links that create a sleek and elegant chain that matches well with almost any outfit. The big mistake people make with herringbone chains is pairing them with heavy pendants that can bend the links. Want our advice? Save the pendant for another chain and let the well-loved herringbone speak for itself.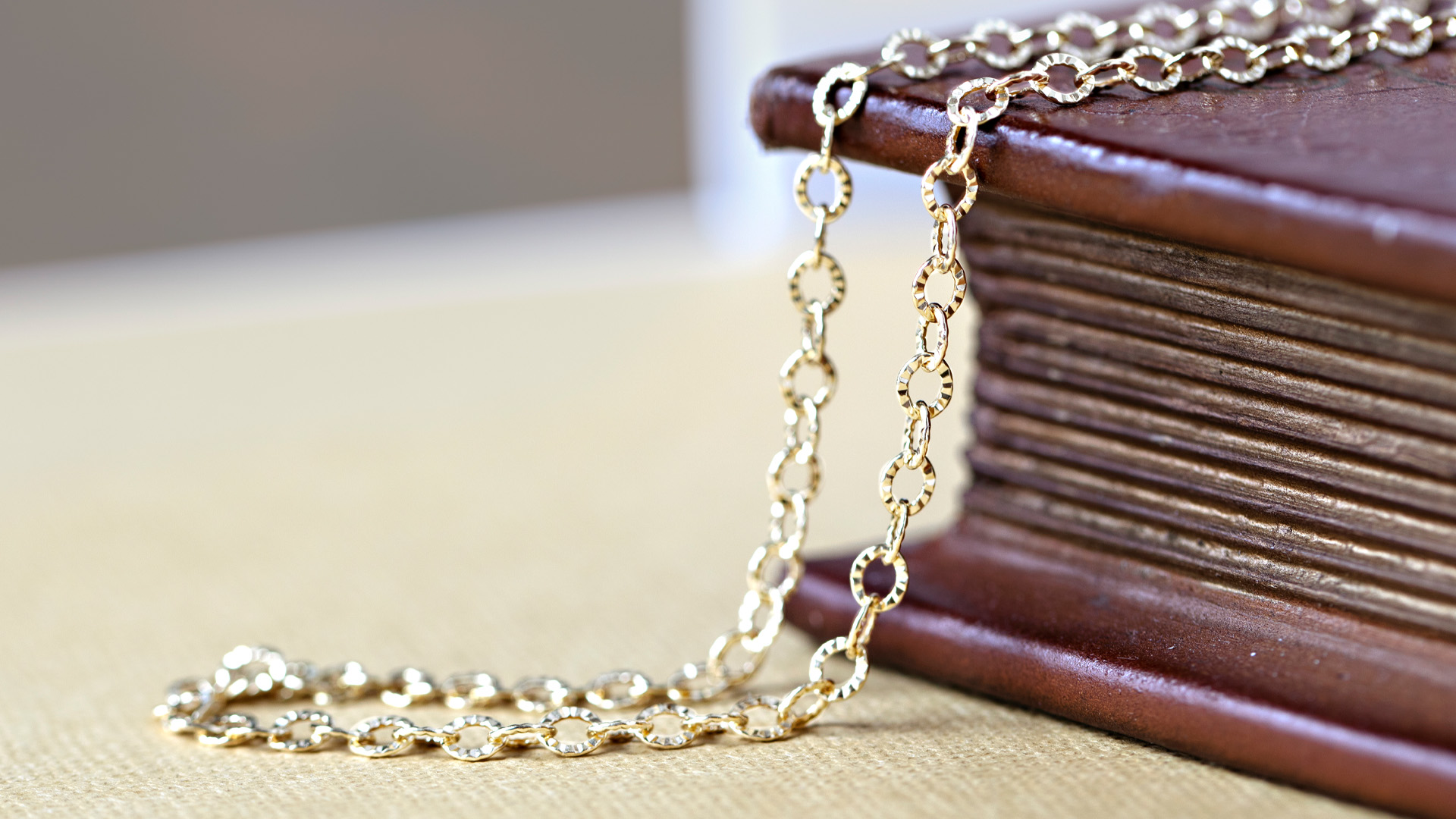 B. I thrive in complexity because why should life be boring?
If you chose B, take a look at these two chains and their captivatingly complex link patterns.
Byzantine chains have a complicated link pattern that holds your attention. Any one link is connected with four others in a byzantine chain, and the result is truly mesmerizing. Wearing these anyway is sure to attract some attention, so be prepared to share the secret behind the mysterious and magical byzantine chain.
Singapore chains are incredibly special because they were invented entirely by accident! A jewelry manufacturer had its machines making curb chains overnight, when something malfunctioned. The result was a curb chain that doesn't lay flat when worn, but twists and turns, creating a dramatic woven flair. The buyer (who was from Singapore) snatched up these gorgeous chains anyway and the rest is history!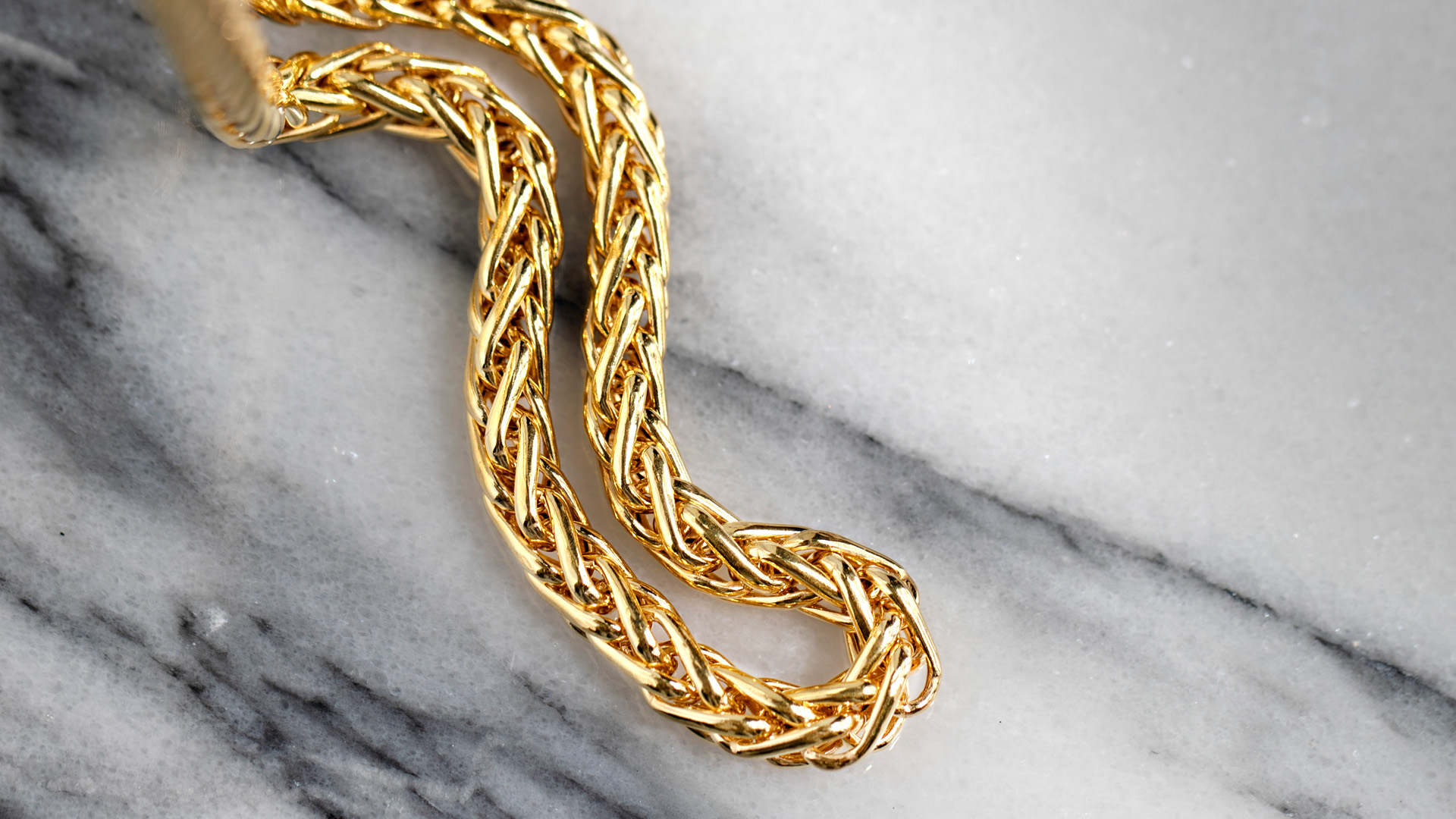 2. A small group of friends are hosting a casual get-together tomorrow night. What are you going to wear?
A. I'll dress comfortably, but with a little subtle flair thrown in.
If you chose A, it's likely you're not one to make a fuss about dressing up. You are proud of how effortless and subtle your style is. And you should be! Even casual wear can be stunning with these two chain types!
Rope chains get their name from its woven, rope-like texture. These chains pair excellently with other necklaces if you decide to go with a layered look. And if you choose a diamond cut rope chain, you have a piece of chain jewelry with bonus sparkle that works wonders all on its own.
Snake chains are another well loved chain that doesn't rock the boat. Although it has the appearance of being a rigid metal accessory, snake chains are quite flexible. The slightly curved plates of metal allow for some bending, which makes it a comfortable and lightweight fit.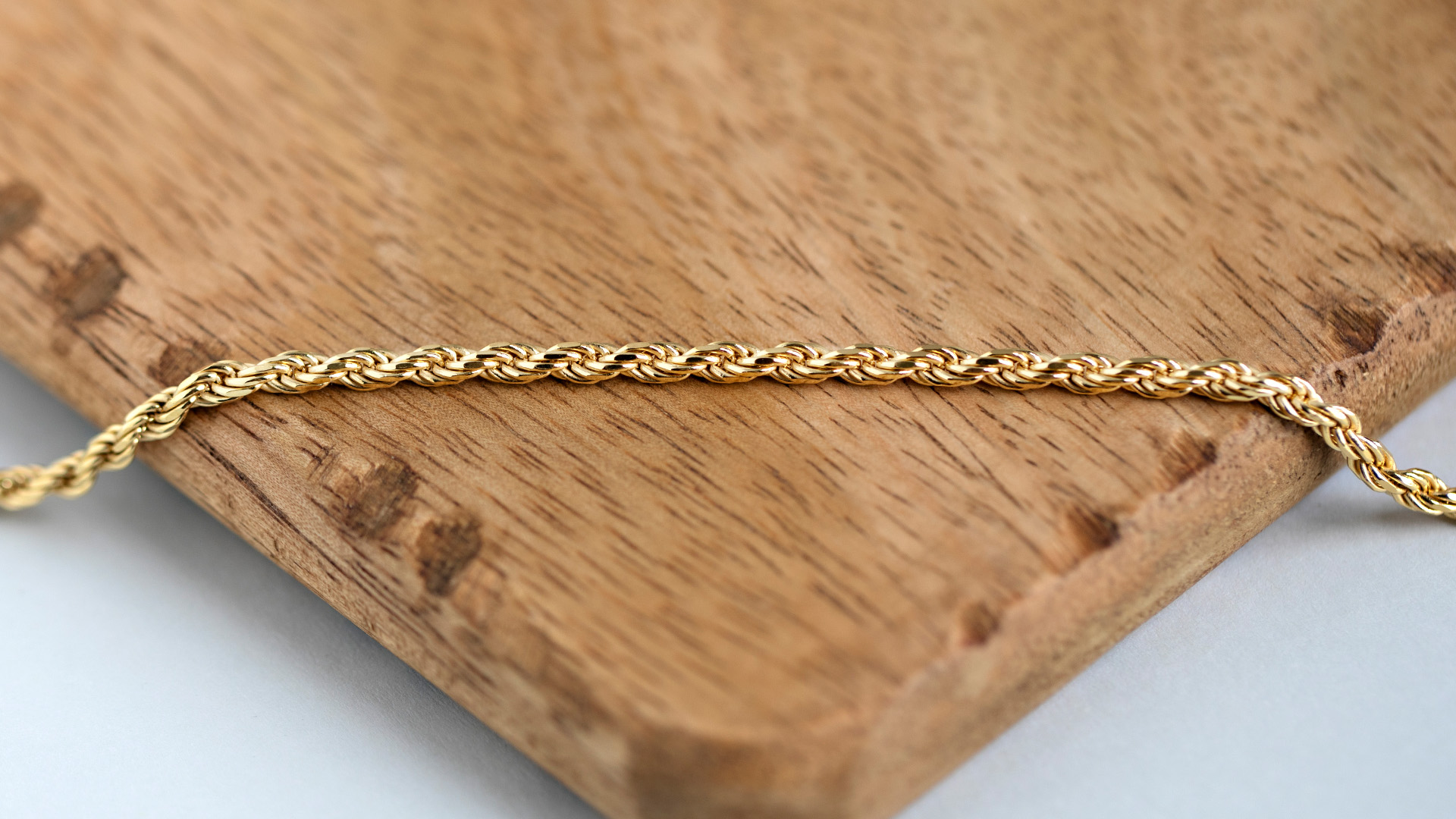 B. I'm still going to dress up like it's a night out on the town.
If you chose B, you're the type of girl who knows how to make a statement. The party starts when you walk in. And since all eyes are likely to be on you, you should check out these bold chains that are sure to impress and amaze.
Box chains have square links that join to create box-like shapes. Because of their design, box chains have lots of surface area to catch the light, making sure you get the right amount of attention drawn to your direction. Box chains are durable chains that are also easy to repair or replace.
Mariner chains, also known as anchor chains, get their nautical names from the anchor-like shape of the chains. Interlocking ovals with a bar running through the middle gives this chain type a look that no other chain can claim to resemble. Typically, these chains are thicker, which makes for a can't-miss addition to any outfit.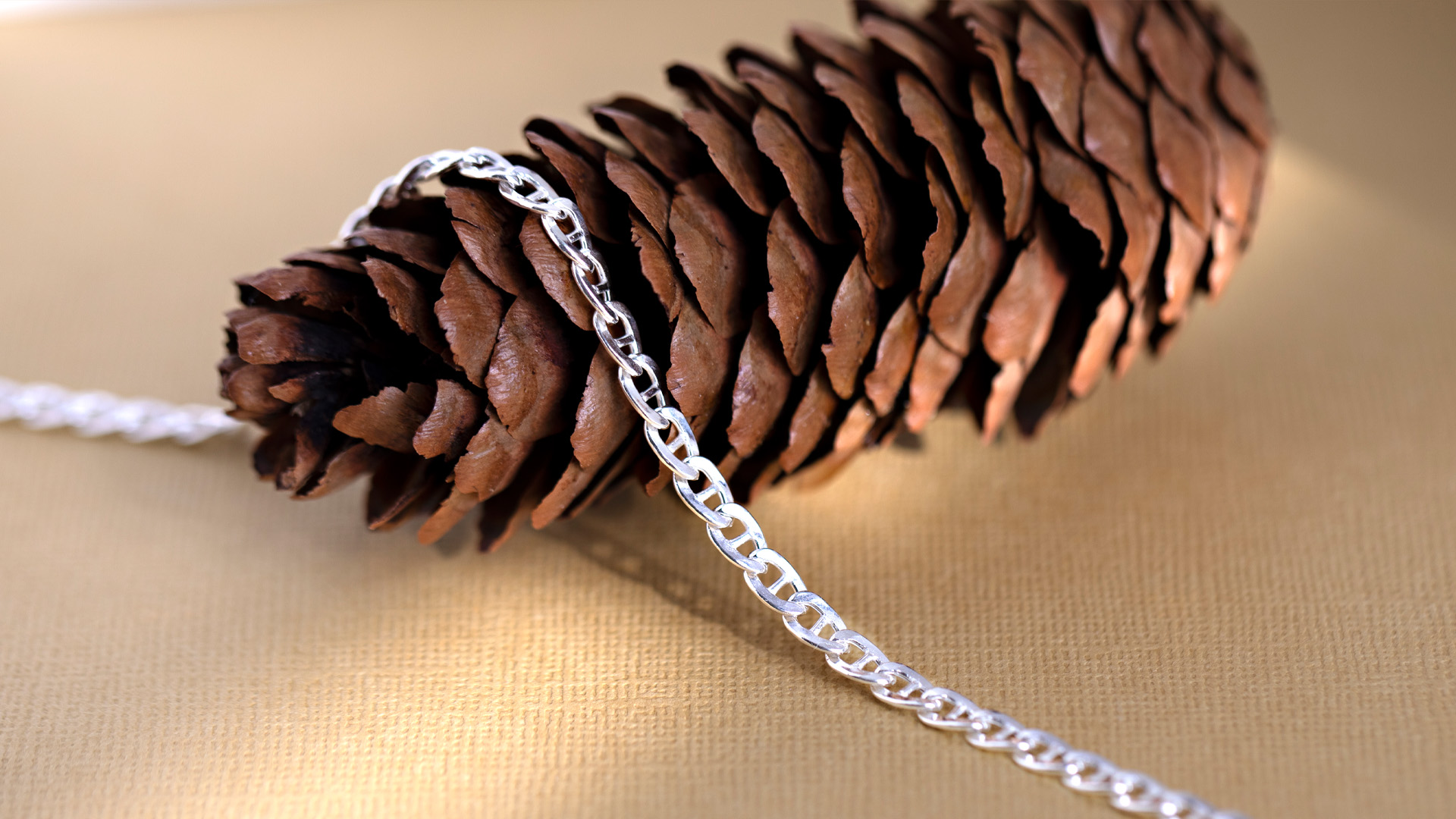 3. You have the chance to travel anywhere in the world. Do you bring along a friend or do you take this adventure solo?
A. Of course, I bring along a friend! Life is better with a traveling buddy.
If you chose A, you know that life is better with a buddy at your side. But did you know that the same goes for chains and pendants? Here's two chains that are the perfect pair with a pendant.
Omega chains have a smooth texture, created by metal plates that form a sleek, lay-flat chain. The slider pendant, a unique pendant for this chain type, gives the omega chain an absolutely dazzling and darling look. Finding a slider pendant that fits loosely and isn't too heavy makes for the perfect chain pairing.
Wheat chains, also known as spiga chains, are the most durable of chain jewelry because of its complex braiding that resembles wheat stalks. Don't worry about your pendant going AWOL while you're taking in all the sights on your travels. Pairing a pendant with a long or short wheat chain allows you to tailor your look for wherever your travels take you.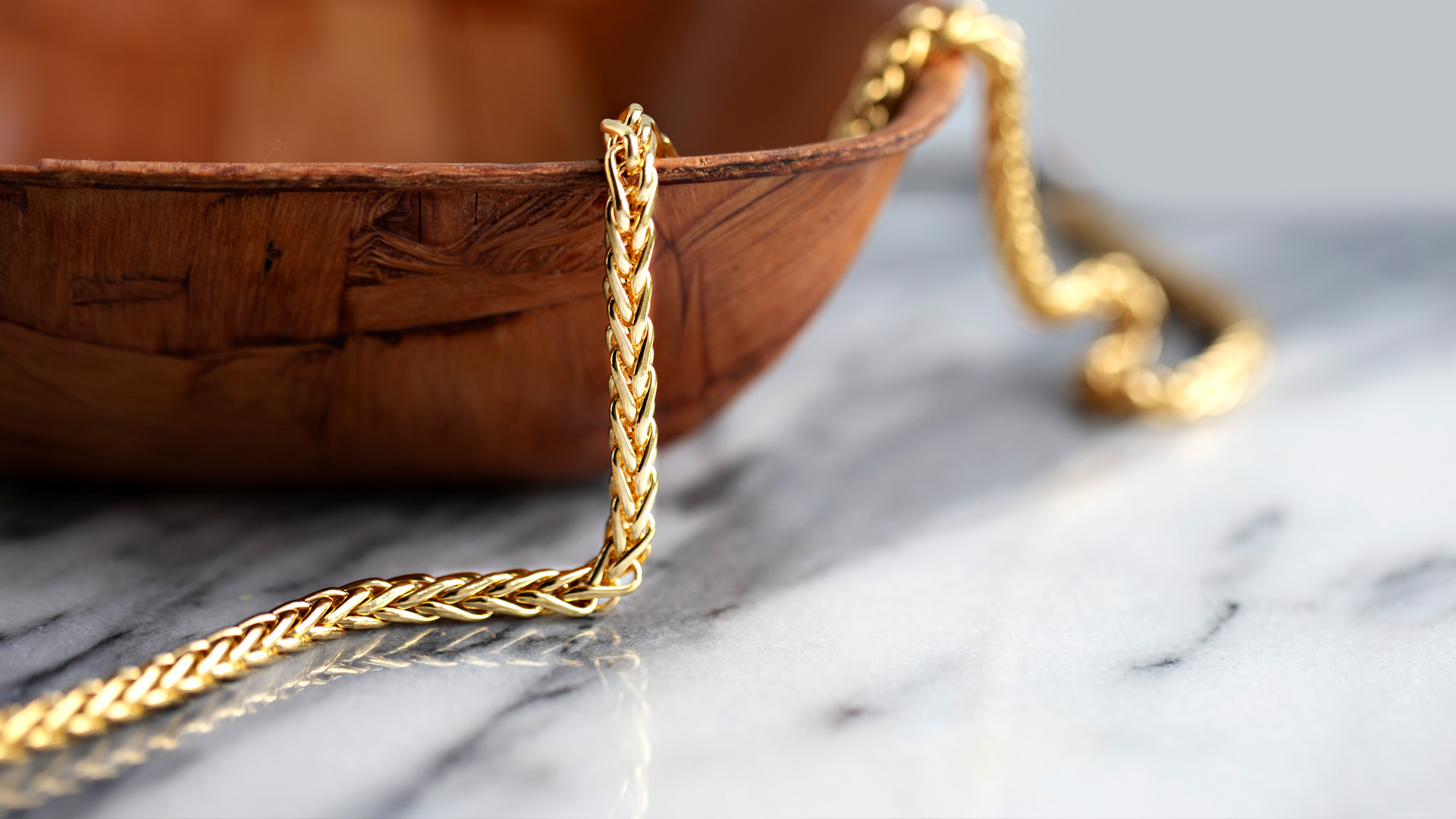 B. I'm always ready for an adventure, whether or not a friend can tag along.
If you chose B, you're the type who can take to the sky or seas with or without a friend at your side, you're what we like to call an "inde-pendant" (haha, get it?). You don't rely on a pendant to make your jewelry dreams come true. When the time is right for travelling with a buddy or for seeing the world solo, you know the difference and can thrive with both… just like these next two chains.
Figaro chains have a distinctive pattern of small two to three flat links broken up with a longer oval link. Pairing figaro chains with pendants is a sure way to draw the eye, especially with thicker figaro chains. Thin figaro chains, on the other hand, are gorgeous without pendants, because their varied pattern is an eyecatcher.
Popcorn chains are incredibly lightweight chains. The clusters of metal look strung together like a traditional popcorn garland. When choosing a pendant for a popcorn chain, go light. Heavy pendants will weigh on your popcorn chain, increasing the chance that your chain will break. A trip around the world is not a good time for you and your pendant to part ways.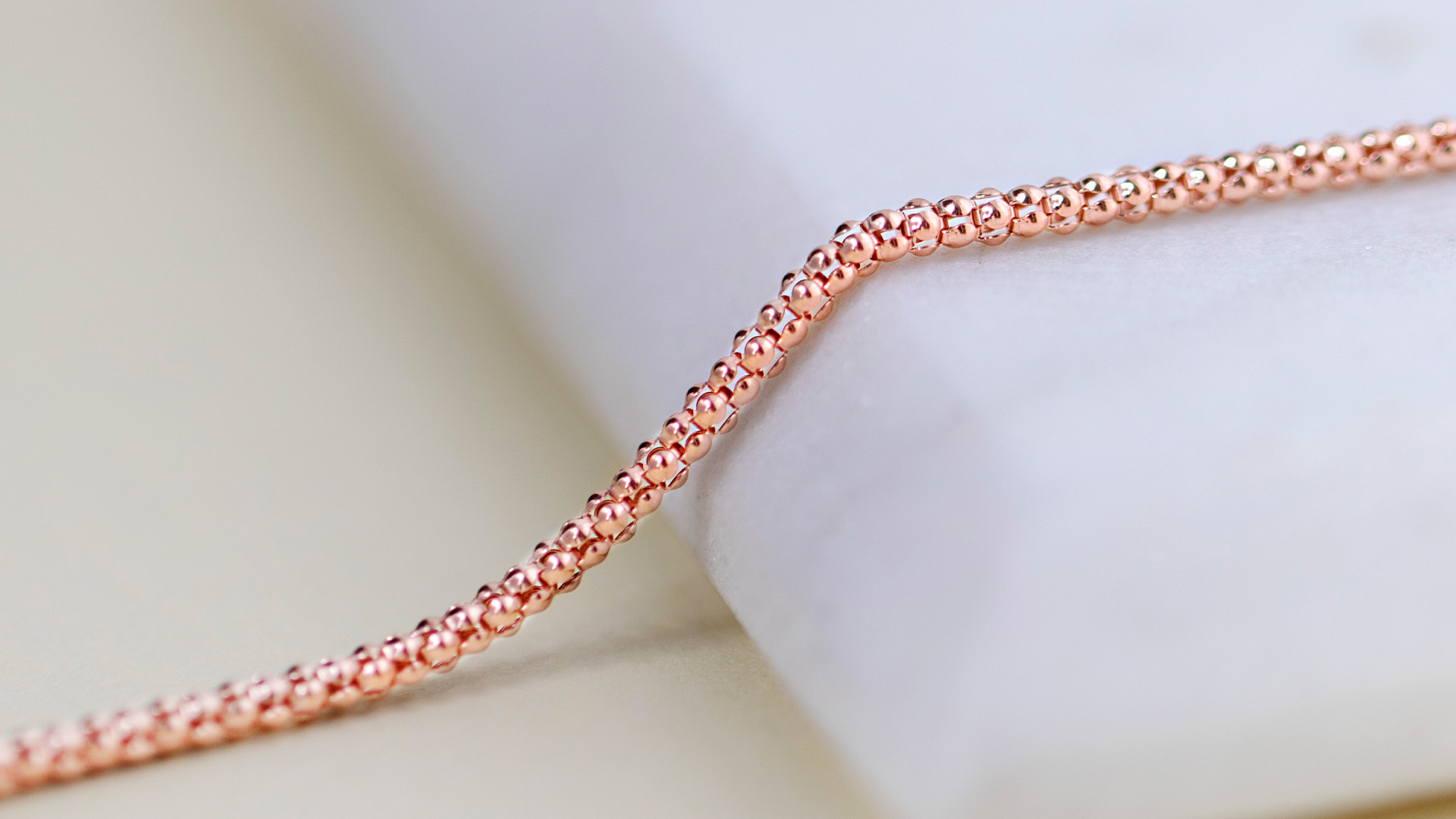 4. When someone asks for your opinion, what tactic do you take?
A. I'm upfront and honest with people about what I feel and think.
If you chose A, you're looking for a chain that gets right to the point.
Rolo chains, also known as belcher chains, have identical round links that alternate between horizontal and vertical. Rolo chains are a simple chain type that, just like curb chains, look great on men and women. While rolo chains can be worn with pendants, it's more likely that rolo chains are styled as a solo statement piece.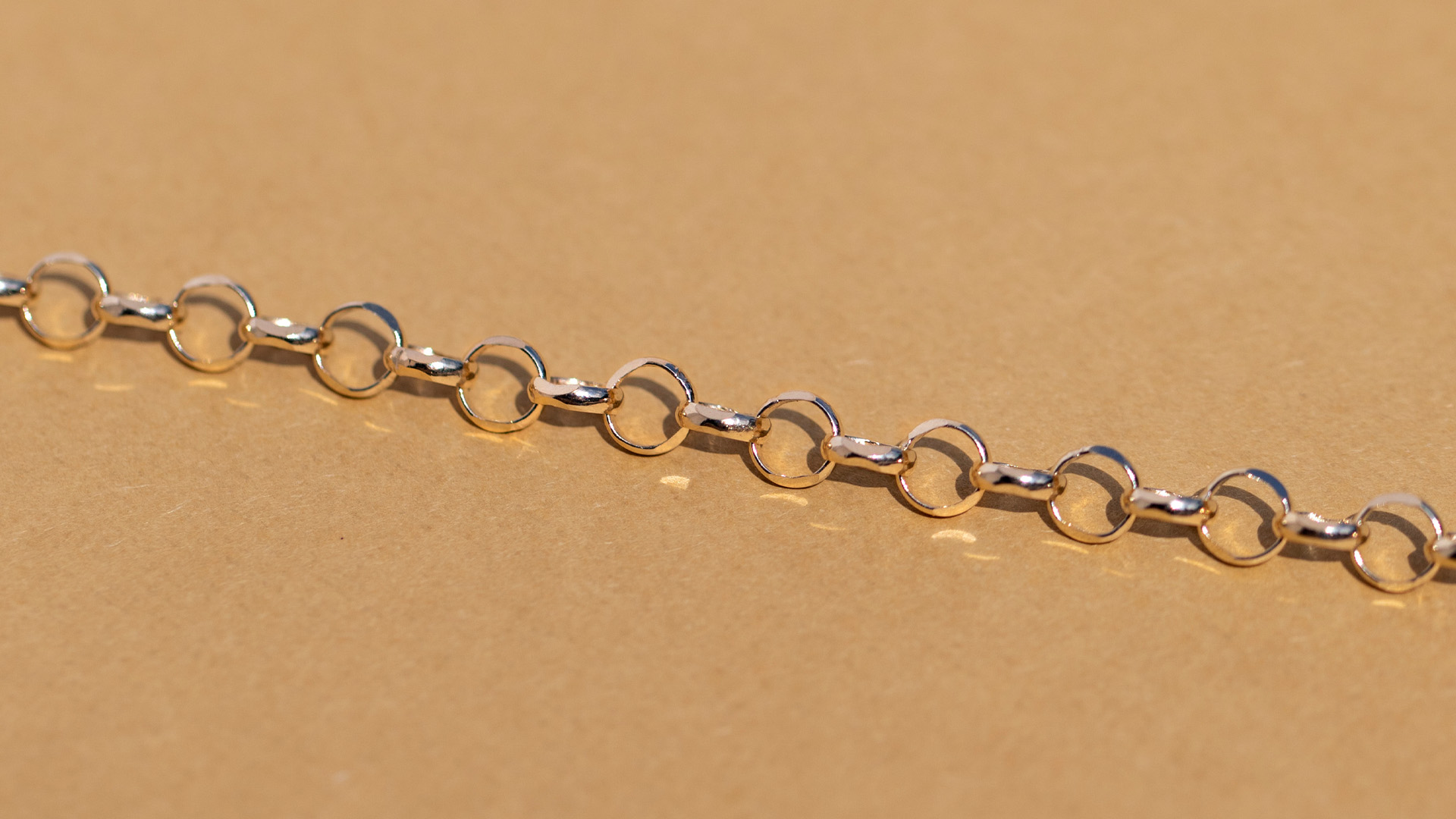 B. I have my opinions, but I don't always feel the need to share them.
If you chose B, you're looking for a chain that shows off your class and cleverness.
Curb chains have a simple linking pattern that allows the link to lay flat against your collar when you wear it. Curb chains are popular with men and women, because it's easy to style the links whether they're large or small. Curb chains in any size are sturdy and look stunning with pendants.
Are you feeling like a jewelry chain wizard yet? We still have one more question for you (and a few last-minute styling tips), so keep going! You're almost there.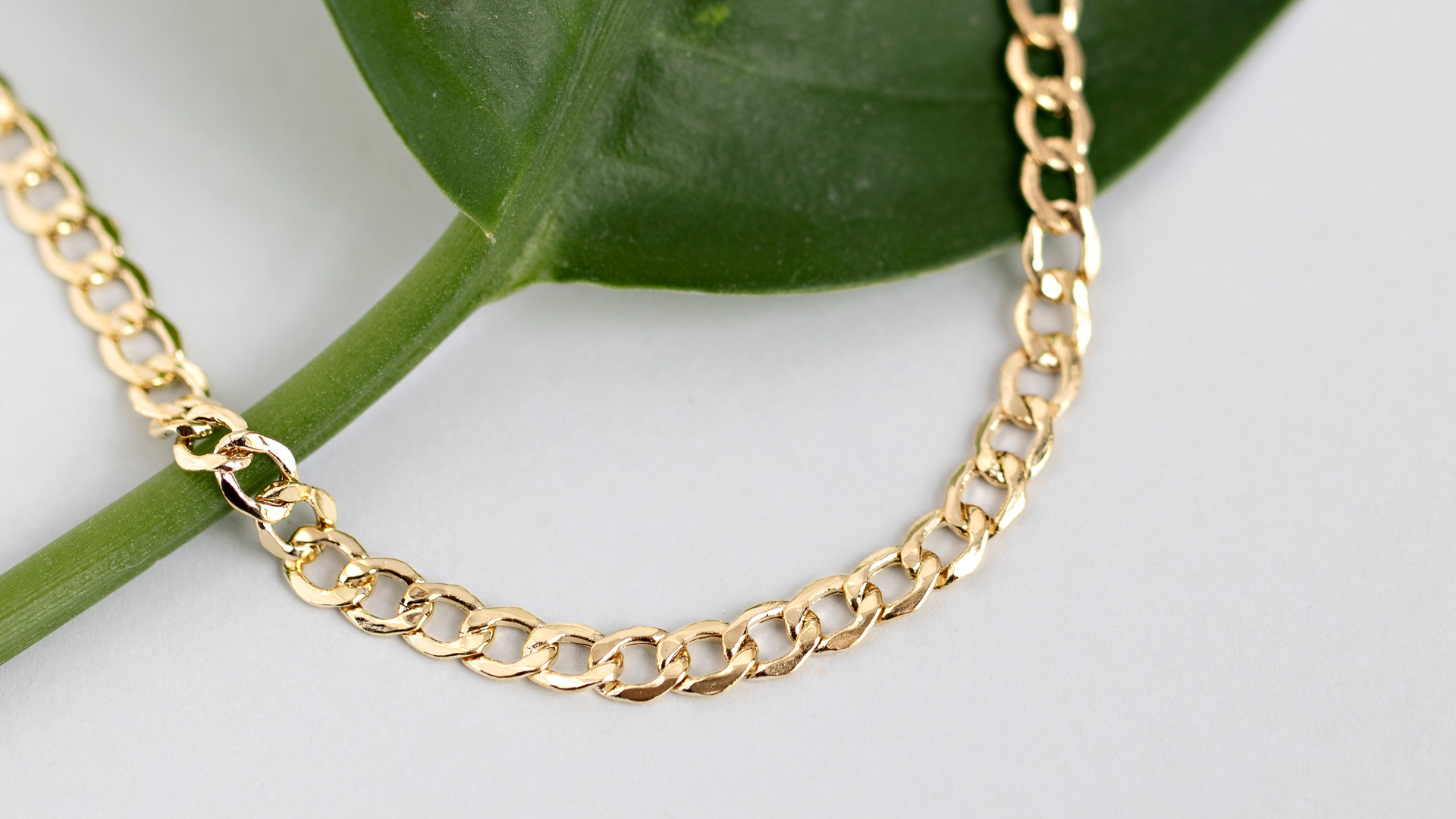 5. If you had to pick one set of words to describe your look, which set would it be? (ps. you have four choices this time)
A. Classic, refined, and confident.
If you chose A, you're likely to stick to the stuff you know. And when you think of what you know about chain jewelry, what do you think of going with gold? Choosing any of the previous chain types with gold isn't a bad idea. Gold is a classic color, not the type to rock the boat at your next family gathering. Gold chains help you put your best foot forward, showing off how refined you are and how much self-confidence you have. There's a reason they have first place medals in gold, after all.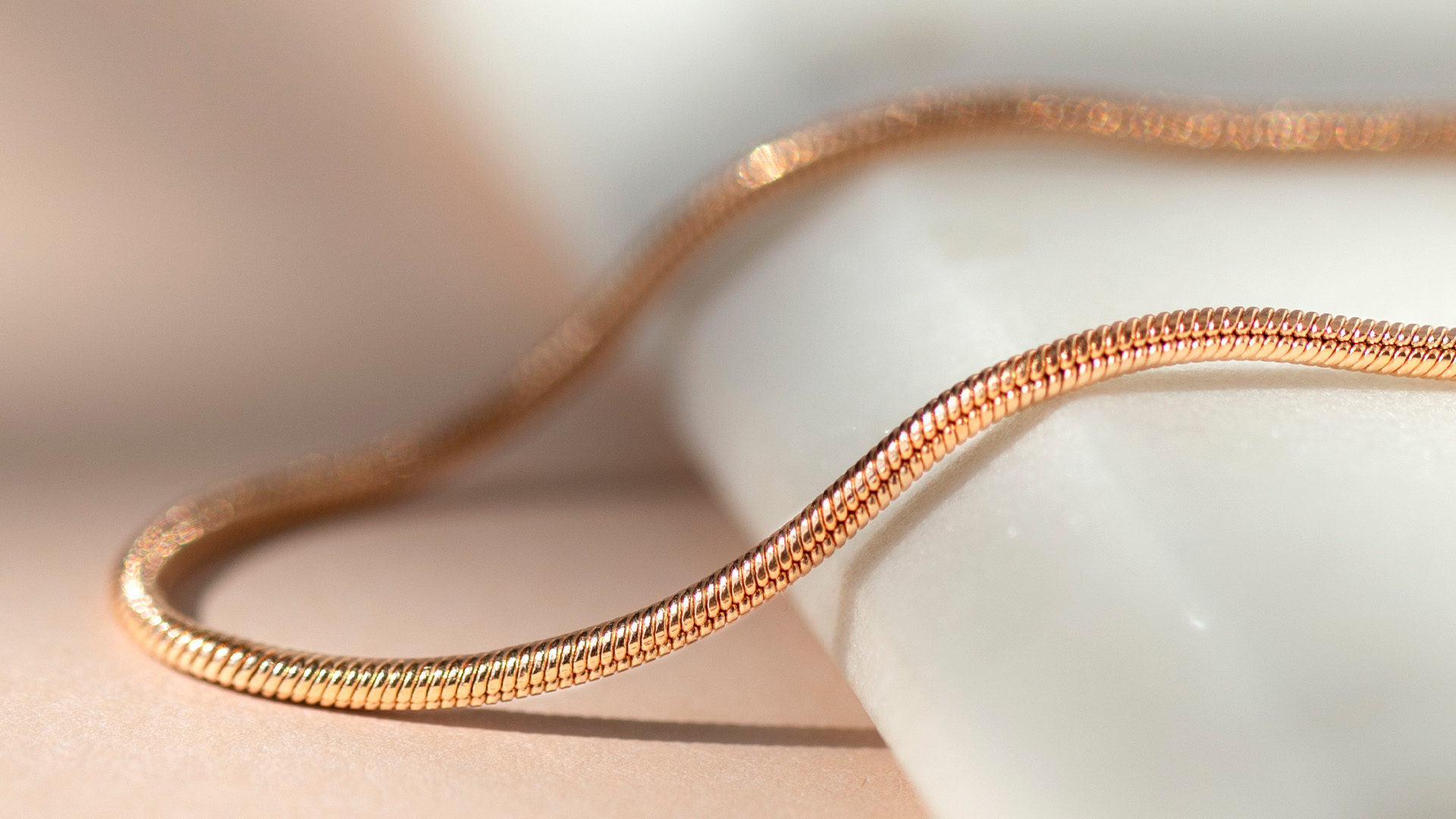 B. Feminine, fun, and pretty in pink.
If you chose B, you're not afraid to own the fact that you're a strong independent woman. That's why rose gold is the perfect metal choice for whatever chain style you choose. This gold metal tinged with pink allows you to bring some feminine power into your wardrobe without going crazy with accessories. A rose gold statement chain would help you unite your rose gold earrings with a rose gold ring or bangle set. Whatever you wear, just remember that rose gold is always a gorgeous look for you!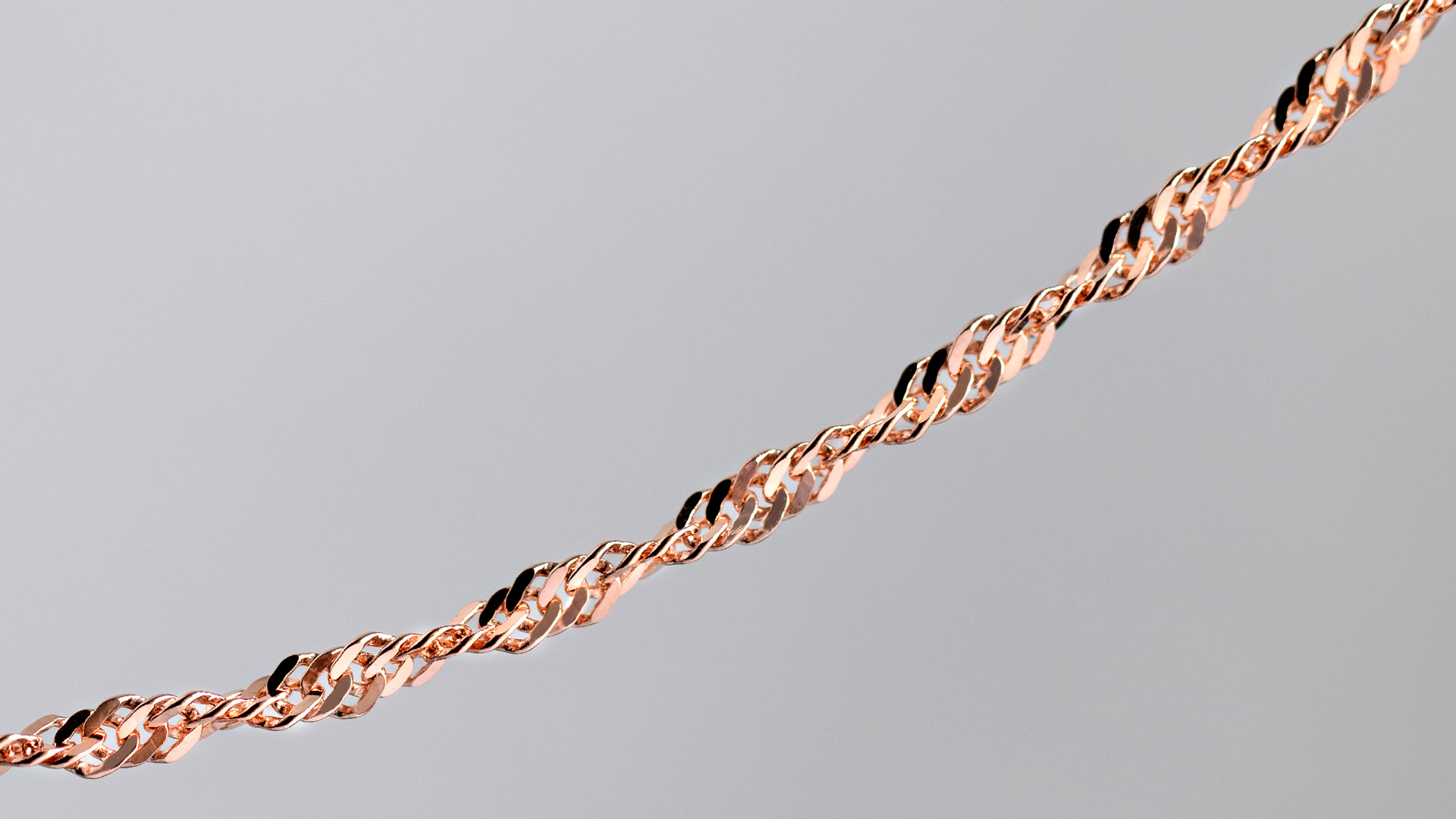 C. Elegant, sleek, and mysterious.
If you chose C, you want something a little under-the-radar, but still radiates style. How about silver chain jewelry? Silver and gold have been the top jewelry metals for some time, but silver's shine somehow always ends up second to gold. But it doesn't have to be that way. Silver is a chain metal type that goes well with practically any color. Not only that, but it brings an elegance and sleekness with it, unlike any other metal. Why not give this mysterious yet magical metal a try with silver chain jewelry?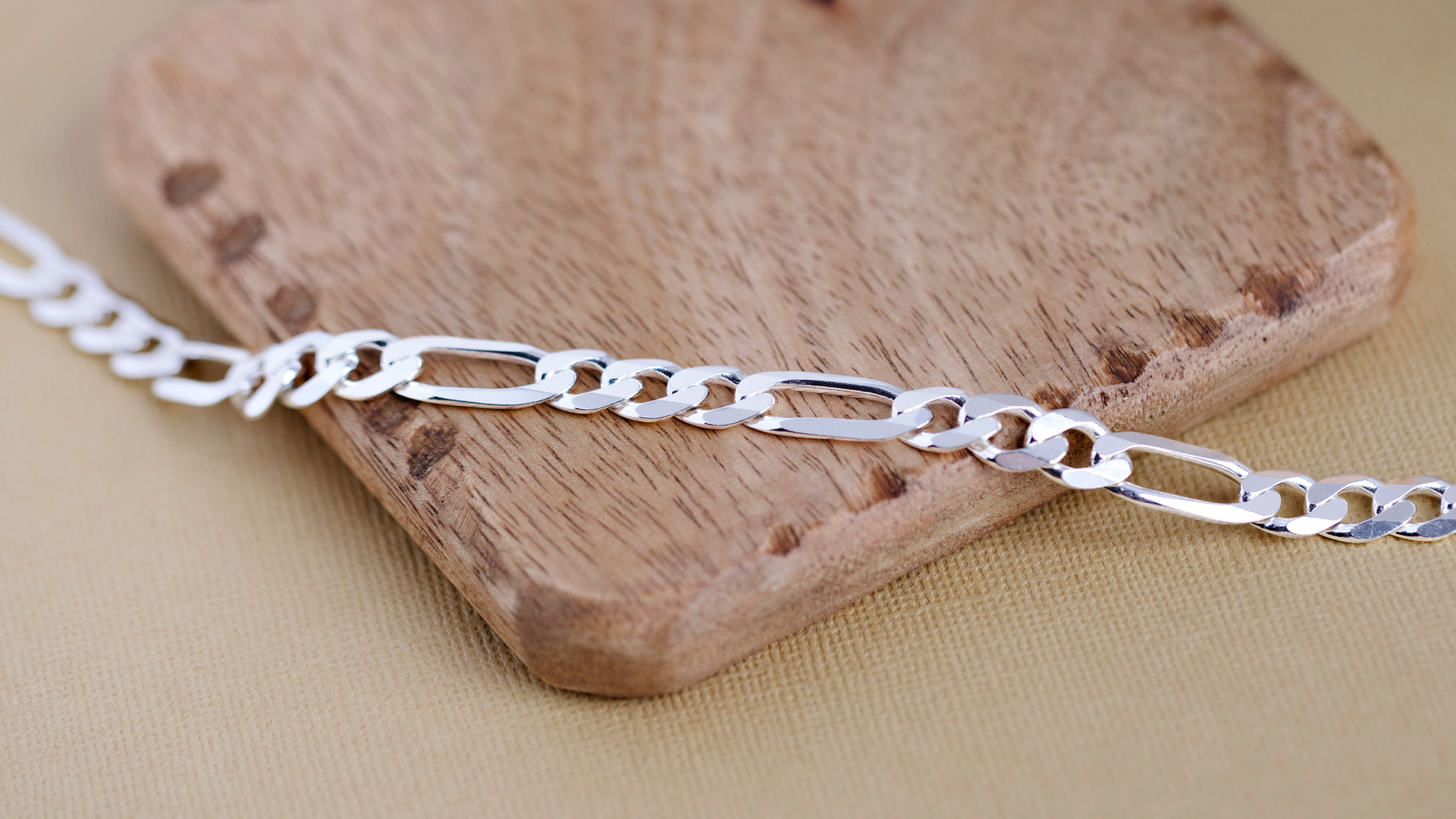 D. Modern, dependable, and no-nonsense.
If you chose D, you'd probably like a twist on the old way of doing things without getting too wild and crazy. Which is why stainless steel is the perfect thing to consider when shopping chain metal types. Stainless steel doesn't tarnish and if you have metal allergies, stainless steel is considered one of the safest metals to wear. Stainless steel is incredibly durable and dependable, so you can pretty much count on stainless steel jewelry to be in your corner, wherever life takes you.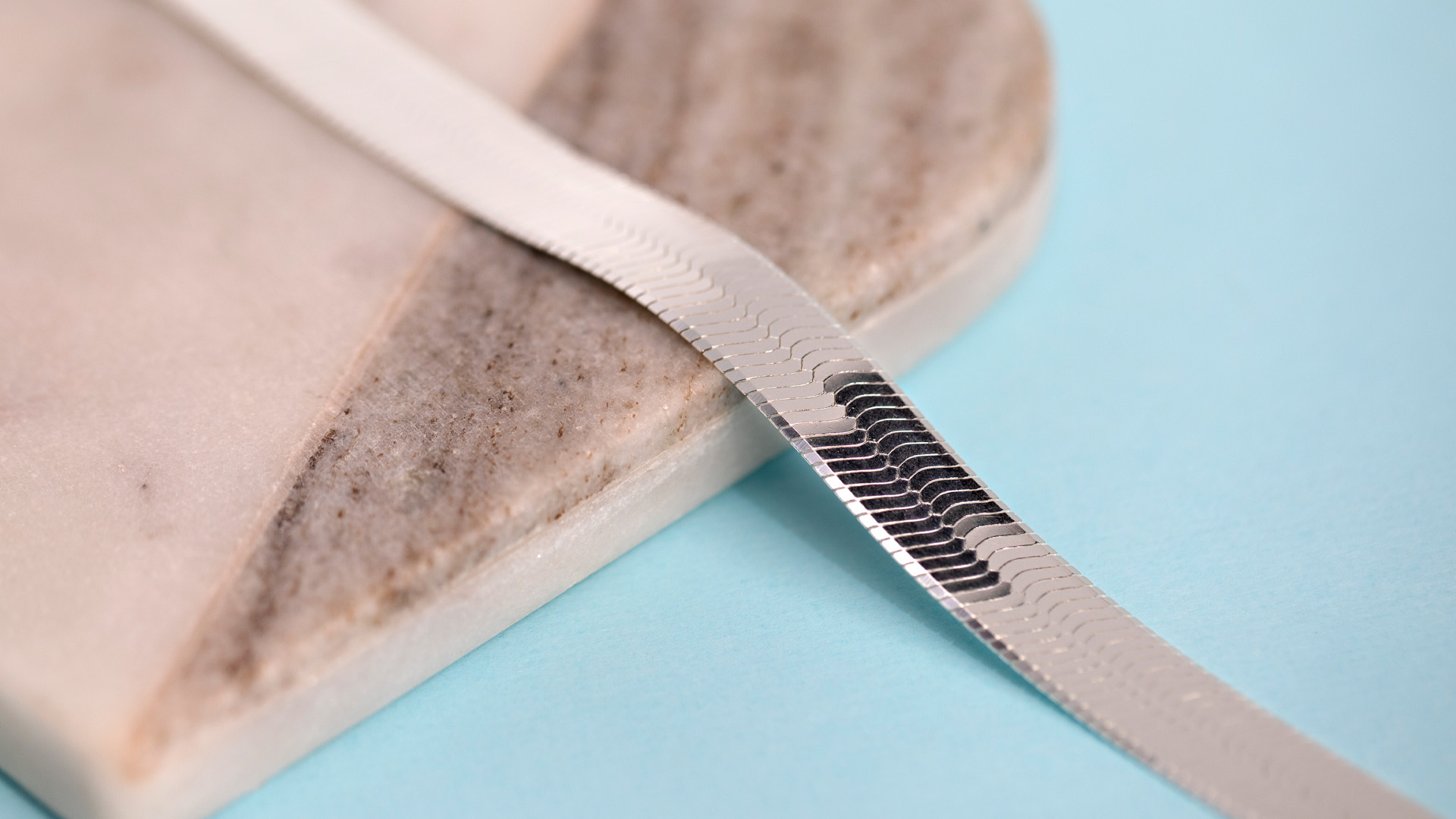 One More Thing To Consider…
Hopefully, our jewelry chain quiz has helped you find several chains that are just right for you.
But before you go on that jewelry chain shopping spree, let us give you a few tips on buying the right chain length and thickness.
Getting the right chain width is oh-so important for styling it for the individual. Chain necklaces with larger links are bold statement pieces; thin linked chains are elegant and dainty.
Any chain from 0.5mm to 2mm is best worn solo or, at most, with a charm. 3mm to 5mm chains tend to be more durable than the smaller width chains, but still should be worn with caution. Anything above a 5mm chain, ranging from sizes up to 10 to 15mm depending on the style, is very durable but should still be kept safe from scratching or tarnish.
Length in jewelry chains is equally important. Chains typically range from a short, choker style of 16 inches to longer styles for pendants between 30 and 34 inches. With a wide range of chains to choose from, the sky's the limit when it comes to styling. Layering long and short necklaces is a fashion-win, no matter how you look at it.
Feel like a chain jewelry genius?
After reading through all those chain types, what are you going to do with all of this newfound knowledge?
Ummmm, shop until you drop, of course!
Use the quiz to know your own chain likes and dislikes, but don't forget to spread the wealth! Find the perfect gift for that special someone in your life with the five simple quiz questions above. After all, you know them best of all.
Shop for all sizes, lengths, and metal varieties of chains here!
Your Bag