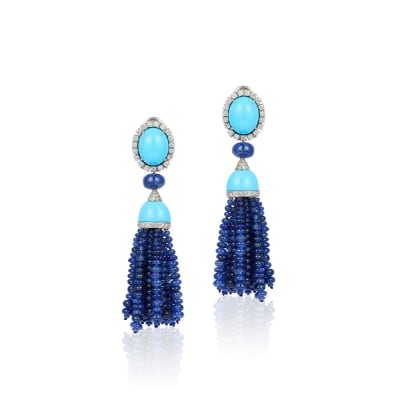 Everything You Need to Know About Tassel Earrings
Embrace the fun of tassel earrings while learning all about this popular style including its history, types, styling tips and even how to make your own.
Published 01/09/2021 by Rebecca Nichols
What makes tassel earrings so great?
The number one thing that makes tassel earrings so popular is their versatility. You can find stylish tassel earrings for every outfit you can think of from your favorite t-shirt to glam fit for the red carpet. Not only do tassel earrings look amazing with every fashion style, but they are also flattering to every face shape. In addition, tassel earrings are lightweight statement pieces that come in a wide range of designs and materials, so you can always find a perfect pair.
What do tassels symbolize?
Tassels have been used for everything from being a religious symbol, a talisman from evil, to a symbol of high social rank or intellectual achievement. Nowadays, tassels have mostly returned to their decorative origins.
4 Types of Tassel Earrings You Need
Ready to give tassel earrings a try, but not sure where to start? Here are four of the most popular designs you need in your wardrobe.
Single Tassel Earrings
Modern and chic, single tassel earrings come in many lengths and eye catching materials including thread, leather, beads, cord and metal chains. For extra glam, look for one with a decorative cap, bead, or knot.
Layered Tassel Earrings
What's even better than one tassel? More tassels! Layered or multi-tassel earrings take it to the next level by combining multiple tassels into one stack. Whether you want to show support for your favorite sports team, wear a single color or the whole rainbow at once, there's a pair for you.
Tassel Hoop Earrings
Already a fan of hoop earrings? You're in luck. Tassel hoop earrings give you the best of both worlds by combining classic hoop earrings and trendy tassels in one striking piece.
Tassel Fan Earrings
Want something a bit more flashy? Check out tassel fan earrings that contain many tassels laid side by side in a half circle.
How to Style Tassel Earrings
Tassel earrings are wildly versatile and whatever style you picked, naturally you'll want to show off your new bling. Here are a few styling tips on how you can wear your tassel earrings for any occasion.
Don't go overboard - tassel earrings are very eye-catching statement pieces, so keep the rest of your look simple to keep from looking too busy.
Let your tassel earrings best emphasise your face and neck by pulling back your hair and/or wearing an off-the-shoulder top.
Coordinate the colors of your earrings with your outfit. Bright colored earrings will stand out most against neutral clothing and vice versa. Alternatively, choose tassels the same color as your outfit for a classy monochromatic look.
Your Bag